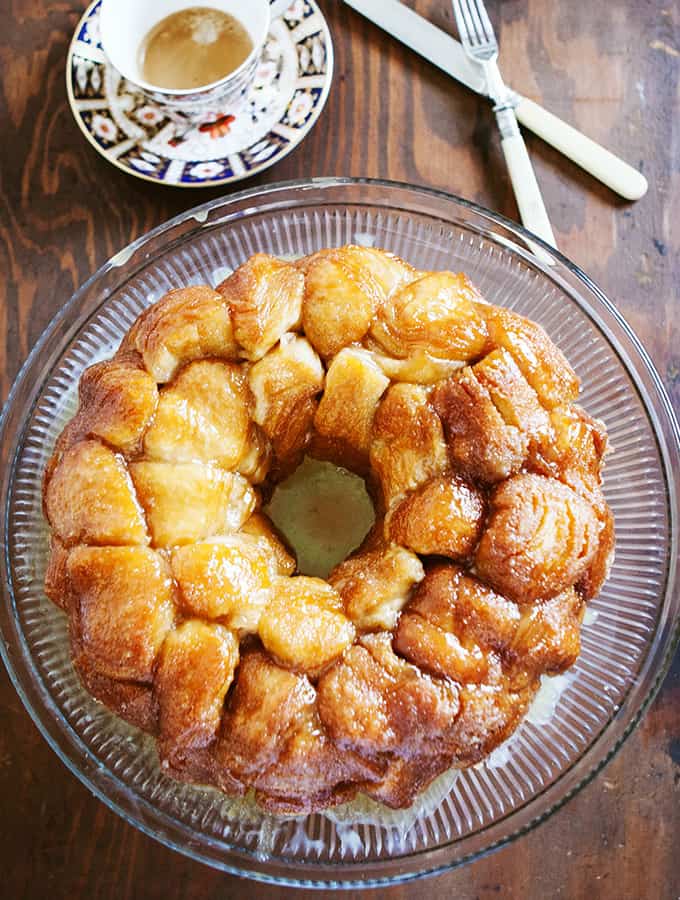 Christmas morning is all about gifts, along with a delicious breakfast to enjoy. Meyer Lemon Pull-Apart Bread is a take on my Mom's classic recipe. Sweet dreams of Christmas morning from Bijouxs Little Jewels.
CHRISTMAS BREAKFAST
I'm not sure what Christmas breakfast looks like at your house, but growing up mine was piles of wrapping paper strewed everywhere, opened gifts and basically little time for the food. We would have something sweet to snack on while the gift chaos ensued. My Mom would bake an easy sweet pull-apart bread made from ready made biscuits, sugar, cinnamon and doused with corn syrup before baking. A sticky sweet bread emerged, easy to grab a bite and keeping opening gifts.
LEMON LOVE
My recipe was created with a few changes to the original. I opted for a lemon version of the bread vs. the cinnamon one, and I ditched the corn syrup instead adding a layer of lemon curd to further the lemon flavor. It's no secret that there is lots of lemon love here in the Bijouxs Kitchen blog. Recipes include Lemon Tiramisu, Meyer Lemon Pudding with Blueberries and my now famous Meyer Lemon Bread Pudding.
MEYER LEMON PULL-APART BREAD
This bread is decidedly sweet, the sugar and lemon curd bake into the bread and create a sweet buttery sauce that surrounds the final product. I have opted to refrain from glazing the bread, I have tried, but felt it made the bread too sweet. I have however kept true to the original use of canned biscuits, after all this was my Mom's way of keeping things simple. The canned biscuits are good, but your own homemade are certainly welcome.
#4 BEAUTIFUL FOOD BY DESIGN
In these very strange days I am trying to keep a schedule to work on my cookbook, #4 Beautiful Food by Design. The recipes included are favorites and feature my vast collection of vintage tabletop items, most found through antique and thrift stores. There are so many beautiful discarded tabletop pieces in stores that need a loving home. My collection has grown with the help of a great friend who has sourced almost all my pieces. Photographing my recipes using these lovely pieces is a joy. I hope to bring you the new cookbook late next Spring. Here is a mockup of the book cover.
Wishing you  joyous holidays from the Bijouxs Kitchen.
As always, enjoy. B