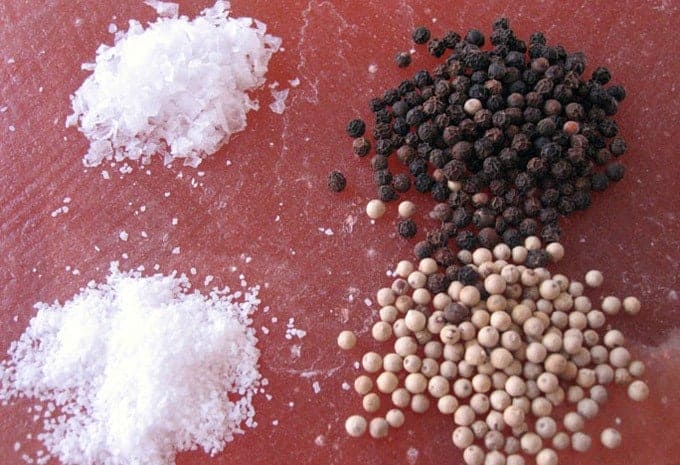 "add 1 teaspoon of finely ground salt", "salt and pepper to taste", "Kosher salt and freshly ground pepper", "white pepper finely ground" – salt and pepper are called for in almost every recipe, either alone, or as a dynamic duo. Salt and pepper are key pantry items and at the core of seasoning food – they are Bijouxs Basics.
Salt and pepper – simple ingredients where the conversation can become complex, but I have broken each down to 3 basics, making it simple to enact a few changes with pantry items from the supermarket, that can have an impact on the quality of the foods your prepare in your kitchen.
Salt. Personally I love salty foods, i.e. pretzels or the crispy salty crust on roast chicken, but I despise saltiness. Question: Have you ever dined out only to wake up in the middle of the night downing multiple glasses of water, feeling like you had just returned from a trip to the Sahara? That's what I call saltiness, the layer upon layer of sodium created by using canned products as the basis to create a dish – think of a simple pasta sauce – canned tomatoes, canned artichokes, canned mushrooms, then adding more salt to the cooked pasta – sodium overload. By cooking your meals at home, you have a distinct advantage – you know the ingredients and can prevent the number one food foil – saltiness.
Salt in 3 easy steps.
1) Cooking (general stovetop use, frying, roasting, etc): Kosher salt, preferably Diamond Kosher salt. You may keep it in a simple bowl or vessel right by the stove that allows for adding pinches, or measures with spoons as necessary.
2) Baking (pies, bread, cakes) Think chemistry: Although many baked goods recipes call for the use of kosher salt, I have found that its grain size is not complementary for sifting, which is a key technique in most baking recipes. Since I need all the help I can get when baking, I use simple table salt or very mild fine sea salt, but if the author of the recipe is calling for kosher salt, you may need to cut the amount of table salt in half. Many of the older, classic baking recipes usually call for regular table salt. (Little details can have a great impact on the outcome of the dish- I am recalling the flour debacle when I switched to use one of the "wonderful" specialty flours – yes flour, another Bijouxs Pantry Basic I will post)
3) Finishing/Tabletop: A finishing salt, such my personal favorite Maldon, adds a crunchy, clean, salty hit to foods right before you serve them. I have little wooden bowls filled with Maldon on the table for guests to sprinkle at will. Any fleur de sel (flower of the salt) that you enjoy makes a wonderful finishing salt. (You may notice there is a plethora of salts of every imaginable color and flavor in the stores, they are fun to try, but here I just am thinking about the basics, the things you really need everyday)
Pepper in 3 easy steps.
1) Cooking (again, general stovetop, etc): Tellicherry black peppercorns and white peppercorns in grinders placed by the stove. Freshly ground is the key to seasoning with pepper. I love my Peugeot pepper mills, colored coded, the dark brown for the black pepper and the smaller white one to signal the white pepper. There are many great sources online to purchase peppercorns, like Zingerman's (they stock other great food items as well) but I have found the Morton and Bassett black and white peppercorns to be very nice and easy to procure at many local supermarkets. Just be sure to pay attention to the grind called for in the recipe, many times white pepper called for is "finely ground" and my Peugeot mill has 6 grind settings easily available.
2) Baking (again, think chemistry): I tend to follow the directions with care when I bake, that includes adding the pepper. I keep a small amount of finely ground black pepper on hand for baking, breaking the rules about no pre-ground, buying the best pepper in a very small amount knowing it has a very short shelf life.
3) Finishing/Tabletop: Again, my trusty Peugeot mills create the peppery finish in the kitchen, or even tableside when a coarse grind is required, such as atop a fresh Caesar salad. At the table on constant duty are my beloved Match salt and pepper mills, they are beautiful and produce a perfect tabletop grind.
All of the salts and peppers mentioned are available is most supermarkets. Diamond Kosher salt is sometimes not with the salt, but may be found in the kosher section. Maldon salt has appeared at both Whole Foods and Bristol Farms markets. The Morton and Basset line of spices are in many supermarkets, but I have found the available selection may vary from store to store. There are so many salt and pepper mills to choose from in every price range, you can just start a pepper mill by the stove, and add a tabletop set when you find the ones you really like.
There is no need to throw out all the salt and pepper you are currently using. Even just one quick change can impact the flavor of foods; try adding kosher salt by the stove, or Maldon as a finish to your dishes, or just begin to use a pepper mill by the stove. Be sure to taste the new products against the old ones you were using. I know friends are astonished when we do a simple salt tasting – there really is very distinct taste difference between types of salts, which of course will have an impact on the foods you prepare.
Salt and pepper – The Bjouxs Pantry Basics that are at the core of all cooking.
As always, enjoy. B