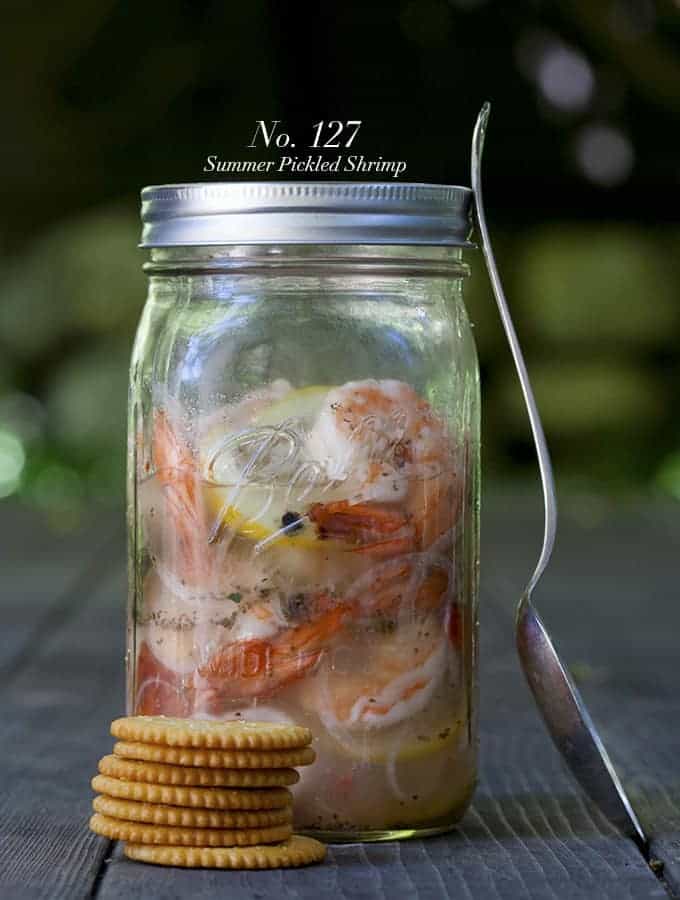 Summer is a time to pack up and escape the heat, whether a week at the shore or a weekend in the mountains, this precious time is best enjoyed when you have got your meals covered. Fresh food, easily prepared, so with a little planning and some mason jars, you won't be spending all your time kitchen. First up in the mason jar cuisine series is a hot weather standard, Summer Pickled Shrimp, a Bijouxs kitchen favorite.
Mason jar cuisine has been a 'taking it on the road' favorite of mine for decades, by simply preparing some of the basics to take with you, flexible, fresh and fast meals are possible; more time to enjoy the holiday. I discovered this concept in an article written by Peggy Knickerbocker, San Francisco chef, cooking instructor and food author and just in time as a new mother with not much time to spend in the kitchen on weekend jaunts. Peggy guided me through the concept of getting into mason jars and getting out of the kitchen.
My favorites to pack are a compilation of takes on Peggy's recipes, combined with my own stable of favorites: a large jar of Caesar salad dressing, great for salads or as a dip; a peanut sauce for salads or grilled chicken; a large jar of cuban black beans as a quick dinner or lunch quesadilla; always a jar of homemade tomato sauce for pasta, pizza or baked eggplant; Bijouxs rum butterscotch sauce, to top just about any fruit, cake or ice cream; and of course, lovely Summer Pickled shrimp, the all-round appetizer that usually gets gobbled up the first time the jar is opened.
This classic pickled shrimp recipe receives it's little jewel ranking for the balanced, delicate marinade that flavors, yet does not overpower the fresh shrimp and of course, the ease of preparation. Pickled shrimp is best when made with fresh shrimp that have been gently poached in the the shell however, buying pre-cooked shrimp works as well, just make sure to drain the shrimp, if they have been previously frozen. The recipe is of course summer-easy. Layer the shrimp with lemon slices and onion along with a simple marinade in a mason jar and refrigerate overnight or about 8 hours.
Serve as an appetizer with crackers (favorites are Ritz, saltines or table water crackers) or serve as a lunch or light dinner by piling the shrimp in avocado halves, along with tomato wedges on a bed of lettuce. Our favorite snack is to grab the shrimp, some paper plates, bowls of fresh fruit, an ice cold beverage and find a shady spot to enjoy.
Summer simplicity always is best, Summer Pickled Shrimp and mason jar cuisine, little jewels from Bijouxs. More mason jar cuisine next week!
As always, enjoy. B