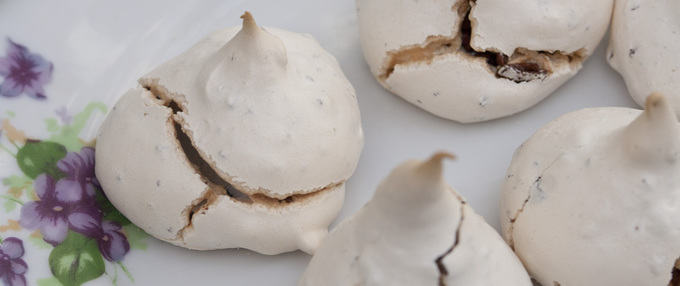 Everyday about 4 pm, after we had finished our chores but just before we bathed and dressed for dinner, Grandma would make some tea, either hot or iced per the season, then open the cupboard where her fresh weekly baked goods were stored and bring out a sweet treat: my favorite were Bisous, Kisses made by Grandma.
Kisses are sweet little bites of meringue, light, airy, not too sweet, cracked and crisp on the outside, soft and chewy inside. Grandma made a few versions; cocoa, vanilla with bits of chocolate, and some flavored and swirled with color for special events.
My version of Grandma's Bisous (Kisses) are flavored with vanilla bean paste and cocoa nibs. I believe Grandma used some sort of chocolate broken into little bits to add to hers, but I chose cocoa nibs, so now – Grandma would approve.
Kisses incorporate a Bijouxs Basics cooking skill – making a meringue. You will not recognize any similarity between store bought meringues and the ones you are about to create.
The egg whites, sugar and pinch of salt are mixed together in a bowl over a pan of gently simmering water and stirred until all the sugar is dissolved. The egg white mixture will be warm, but not hot, and then allowed to cool.
The egg white mixture is placed in the clean (free of any oil residue) workbowl of a stand mixer fitted with the whisk attachment and set to high for a full 5-6 minutes until the egg whites forms stiff peaks. You now have meringue. (I can't believe Grandma did this all by hand)
Then, gently fold in the cocoa nibs until evenly incorporated. You may either pipe, using a pastry bag, or drop by teaspoonfuls on to a baking sheet that has been lined with Silpat mat or parchment paper. Bake until the meringues are firm with evidence of cracking outside, yet soft inside about 15 minutes.
Today I stopped about 4 pm, poured a cup of tea using Grandma's favorite violet patterned china, sat beneath the patio dripping with wisteria, and remembered Bijous, Kisses from Grandma.
As always, enjoy. B