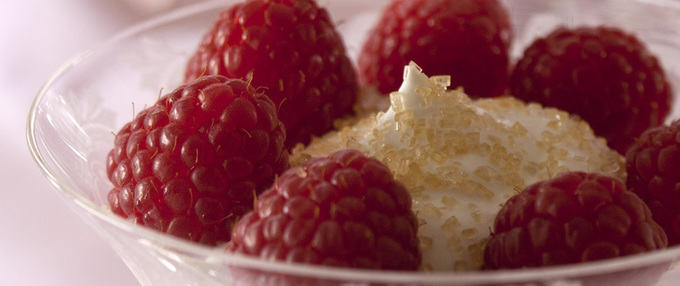 Raspberries Romanoff, just the name evokes a vision of a grand dessert; perhaps once served in the Winter Palace in St. Petersburg or at the legendary Romanoff's restaurant in Beverly Hills and what did M.F.K. Fisher have to say about this dessert? Bijouxs has been in the recipe archive again, and brings forth another little jewel, perfect for Valentine's Day.
On a yellowed piece of company note pad inscribed with the ubiquitous "from the desk of" and in my best 22 year-old penmanship, is scribed the recipe for Raspberries Romanoff. It's funny how just a little bit of paper can trigger the essence and tastes of time gone by; I remember exactly how this simple, little jewel came into my life.
We all have our food heroes; one of my first was M.F.K. Fisher. She was a go-to read as I began my journey with cooking, and coordinating food and wine for guests on a company jet. In her book An Alphabet for Gourmets Fisher gives a nod to the recipe Raspberries Romanoff, and dispels any notion that it was served at the legendary Romanoff's restaurant or at the Winter Palace in St. Petersburg, but simply states that it is "the best, of a hundred more or less complicated ways of combining fresh fruits and fresh cream." Yes, that's exactly it.
What my little scrap of paper reminded me of was a version of Raspberries Romanoff that features a delicate tartness, and can save you a few calories, if you wish. My rendition incorporates plain yogurt, to which has been added honey, vanilla and a healthy dose of orange liqueur, which is then folded into the freshly whipped cream, and topped with the most perfect raspberries you can find. A thin, crisp delicate wafer cookie can accompany the berries.
I mentioned chipping off some calories, which is possible if you use low-fat plain yogurt, like the Greek yogurt Fage (2%), or go forward using a full fat Greek yogurt for an incredibly rich, sweet-tart experience. I like to serve this dessert with the berries dry, sans any embellishment, except for a sprinkling of golden crystals of raw sugar and served in pretty stemmed glassware. You may also macerate the berries in a little of the orange liqueur with a little sugar and spoon the slightly boozy berries atop the yogurt-cream mixture. The yogurt-cream mixture may be made ahead and will hold in the refrigerator for a few hours.
Raspberries Romanoff is really an elegant three ingredient make-ahead dessert – B is for Bijouxs. Wishing you a Happy Valentines Day.
More signs of spring from my garden…
P.S. Here is a sample of M.F.K. Fisher's alphabet – F is for Family.
As always, enjoy. B