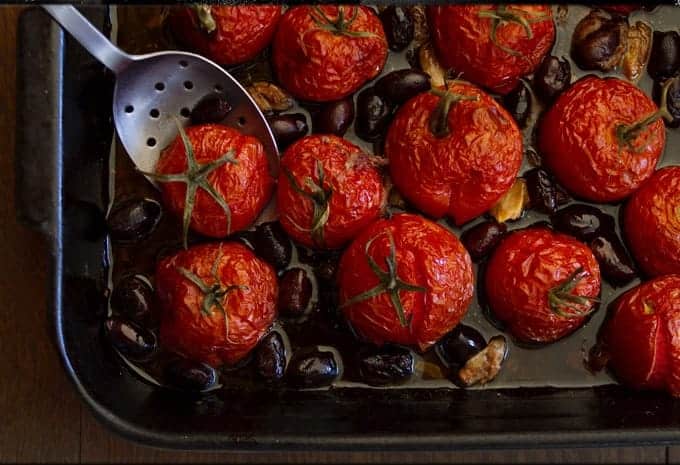 Summer in winter. Summer served right from your oven.  Oven Puttanesca, a winter version of the vibrant Italian sauce brings the fresh flavors, usually reserved for summer, to the table anytime you need a little sunshine. Fire up the oven for another little Bijouxs.
I was born craving summer, sunshine and heat. One summer I journeyed to the English seaside, first grateful to have survived the rough and tumble 6-hour drive along winding single-car country lanes edged with mile-high hedgerows that eventually opened to reveal the beautiful, rugged Cornish coastline. Summer on the Cornish coast = rain, rain, and more rain. How to bring a bit of summer sunshine to the equation? Oven Puttancesca – it's amazing what a simple meal can do to brighten a day.
The great thing about this sauce is that you can make it with basic pantry ingredients and whatever fresh tomatoes you can rustle up. The English supermarkets are very nice, and we were able to find all the ingredients for this summer dish, including some imported tomatoes on the vine, which were a fine substitute for the summer ripe Roma tomatoes I would use at home.
This recipe is basic oven roasting at its best. Just layer all the ingredients; tomatoes, garlic, anchovies, capers, olives and red pepper flakes in a roasting pan, drizzle with olive oil turn up the heat to roast in the flavors of summer. After removing the pan from the oven and allowing the sauce to cool a bit, remove the skins from the tomatoes, which will pull off very easily after the roasting process. Then, using a potato masher or fork, mash the tomatoes, garlic and anchovies, all melded from roasting process to begin to bring together the sauce. Use care not to mash the capers or the olives, just push them off to the side of the pan. Depending on the type of tomatoes you use, you may need to place the pan on the stovetop and reduce the sauce slightly; Roma tomatoes will produce a thicker sauce, the vine-ripened tomatoes (shown) have higher water content, so you will need to reduce the sauce. This "recipe" is highly adaptable; I usually do not measure precisely, and of course adjust the garlic, red pepper and anchovies to suit your taste.
Serve Oven Puttanesca with your favorite pasta cooked al dente, or as a sauce for pizzas. The Bijouxs kitchen/studio guest Bill Livingston took these beautiful photographs. The one thing I am a bit of a stickler about is that the photographs on Bijouxs are of the actual food I cook and Bill is a pro at capturing images of the food, right out of the oven, or right on the plate.
This weekend the forecast called for more rain and even a rare tornado warning here LA, time for Oven Puttanesca, and a little jewel of sunshine.
As always, enjoy. B