Eat your veggies! Almond-Sesame Dip is one recipe to help meet the challenge. A simple Bijouxs Basics that is first a savory dip for raw veggies that travels well for lunches, then easily transforms into salad dressing and more. Take a dip into another little kitchen jewel.
The New Working Lunch Part 2, features a savory sauce that goes from dip to a salad dressing and helps me eat more veggies, a multi-tasking Bijouxs Basics recipe made from a handful of pantry ingredients, along with a silver lining.
A take on the classic standby peanut sauce, Almond-Sesame Dip is comprised of five pantry basics whirled together to make a healthy dip. A new favorite, raw almond butter, meets with healthy food favorites from Bragg liquid aminos (a soy sauce alternative) and their raw apple cider vinegar, both Bijouxs pantry classics.
Almond-Sesame Dip begins as a savory dip, great for serving with your favorite veggies for lunch, next it transforms easily into an Asian-inspired salad dressing, with the addition of more vinegar, sesame oil, a bit of finely minced ginger, hot chili paste and a little water. Toss the dressing with shredded lettuce and cabbage, red peppers, top with sliced almonds and fresh cilantro or toss some of the dressing with hot steamed broccoli, and the dip alone makes a yummy spread for veggie wraps. You will find many ways to enjoy this savory-simple sauce.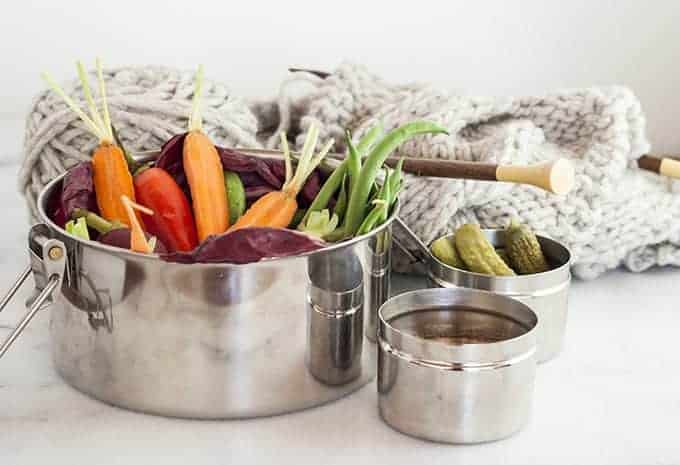 When your life changes in all ways, both great and small, as mine recenly has, one challenge I have encountered is eating a healthy lunch, breakfast and dinner seem easier to manage. So my New Working Lunch Part 2 entails a routine to help keep me on track. I pack a lunch each night, to ensure where ever my days may take me, I can grab my trusty lunch pail and hit the road. Along with change comes the silver lining, my latest knitting project of positivity, a soft organic wool cable throw, a beginners project for the future.
Almond-Sesame Dip, a versatile little kitchen Basic to keep around, sharing simple jewels from Bijouxs.
As always, enjoy. B