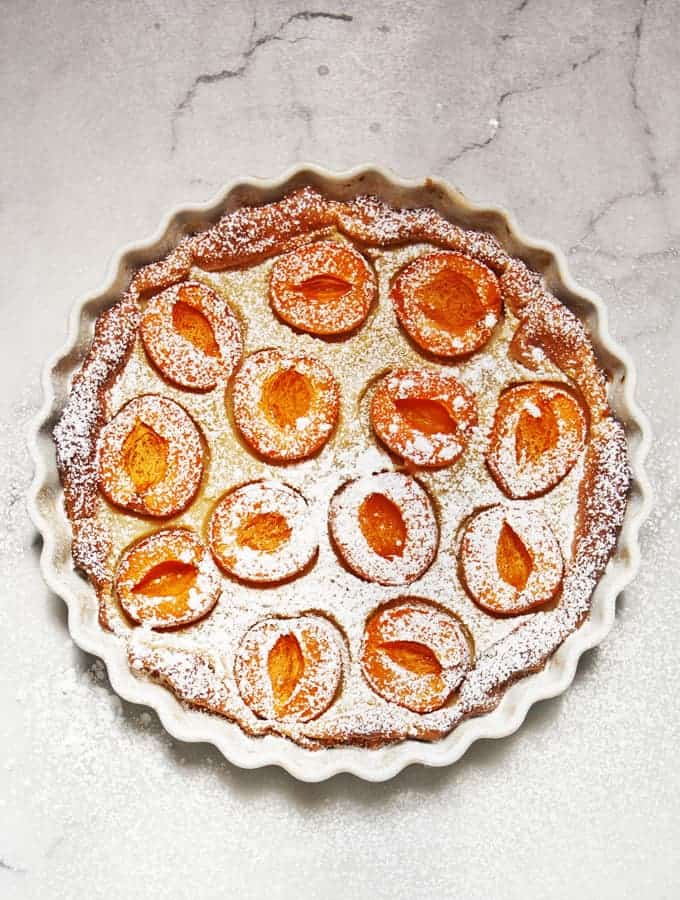 Summer simple. Apricot Flaugnarde, a beautiful, almost effortless dessert or snack – ready to make use of summer's fruit bounty.
What's in name?? A flaugnarde is big name for a simple baked French dessert with fruit arranged in a buttered dish and covered with a thick flan-like batter. Similar to a clafoutis, which is made with cherries, a flaugnarde is made with apples, peaches, pears, plums, prunes or other fruits. Resembling a large pancake, and with even less effort, the finished dish is dusted with confectioner's sugar and can be served either warm or cold – that's it!
So, a flaugnarde for summer dessert is a staple in the Bijouxs kitchen – simple and ready on call to make use of the bounty of beautiful fruit. This time is was apricots, tempted by their blushing faces, so hard to resist at the market. Let them ripen to get the full measure of sweetness, if you can.
These small apricots were halved, or course larger ones might need to be quartered. After removing the pits, they were placed cut side up in a liberally buttered baking dish, about a 9-inch round fluted tart pan, the round shape worked better with the apricots.
Next, mix the up the batter, which goes together in a flash, made smooth with the help of the whisk. Pour the batter around the apricots, reposition the ones that float away. Bake for about 30 minutes, until the batter has puffed around the edges, and firm in the middle. Remove from the oven, cool slightly, and dust with confectioner's sugar.
Summer simple. Apricot Flaugnarde, another little jewel from home.
SaveSave
As always, enjoy. B