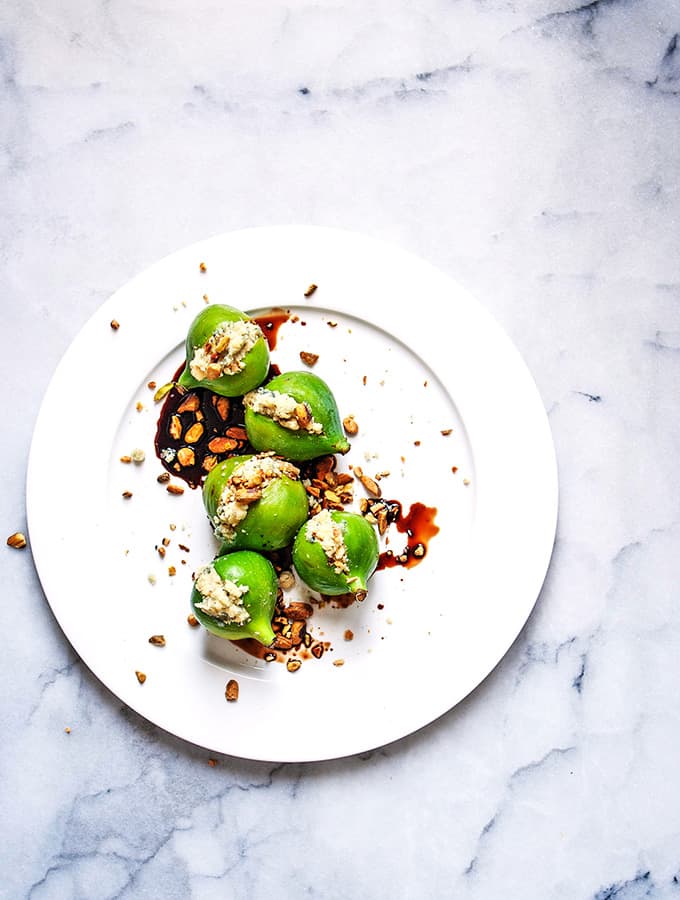 Fig season is nearing its end and a friend just dropped off a bag of beautiful fresh figs. Figs with Stilton & Aged Balsamic for an appetizer, seasonal eating is always a little jewel. Sharing an in the moment post/recipe.
FIG SEASON
Fig season really has two seasons. The "breba" season is the in June, followed by a second or "new wood" season typically runs from August through October. This season features the Black Mission fig followed by the Brown Turkey fig and the Green Kadota fig respectively. I usually pickup fresh organic figs whenever I can, and here along the central coast in agriculture country, the farmers markets are bursting this time of year. But what could be better than fresh fruit from a friends garden, still warm from the fading summer sun?
SIMPLE ENTERTAINING
In the moment with fresh produce is key to the integrity of the flavor. Instead of putting the figs in the refrigerator, I forged in the refrigerator, found a block of Blue Stilton cheese, some pistachios and grabbed my favorite aged balsamic vinegar.
Always true to the blog's mission of simply beautiful food, Figs with Stilton & Aged Balsamic was ready to serve in minutes, a wonderful in the moment recipe for guests.
Figs with Stilton & Aged Balsamic, simply beautiful recipes for the home cook from the Bijouxs Kitchen.
As always, enjoy. B