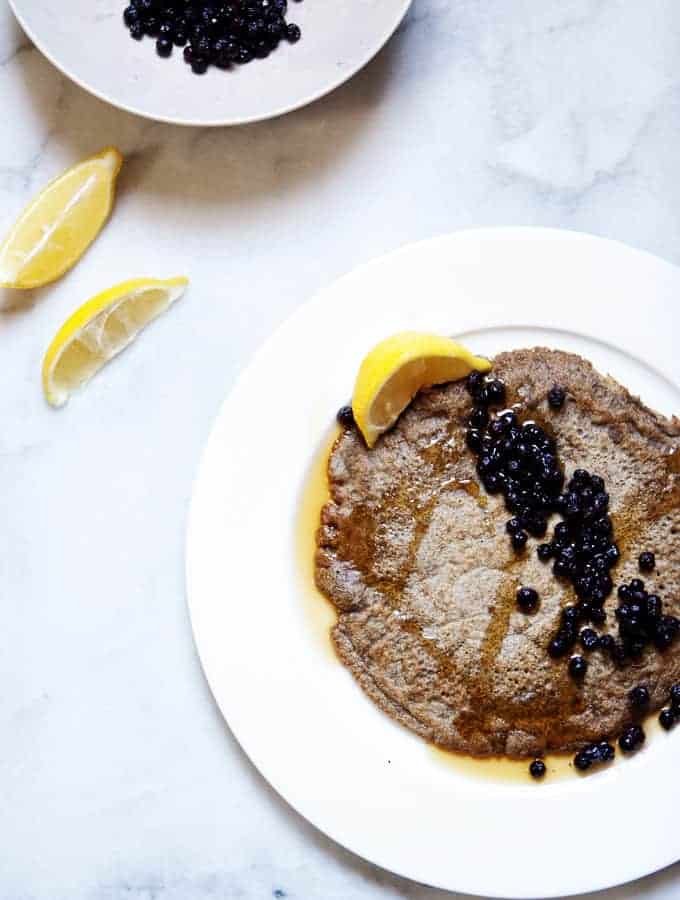 Culinary fads come and go. Bijouxs remain. Meet Buckwheat Pancakes – thin, crispy with a nutty flavor, oh…and also very good for you. Savor this healthy little jewel.
My Bijouxs are the little culinary jewels, my favorites, from recipes to cooking equipment to kitchen basics, which have stood the test of time. As a child of Los Angeles and the "health food" generation, I have been making buckwheat pancakes for decades, mainly for their taste, but also for the health benefits. It's wonderful that alternates to standard processed flour are now part of the cooking mainstream. These pancakes are an enduring healthy little jewel.
Always out there, but not your first thought for pancakes, is buckwheat – which of course, is not all related to wheat. Buckwheat is actually closer, in botanical families, to say rhubarb – crazy huh? The seeds are harvested, yielding pryramind-shaped kernels which are ground into flour, with a rich, nutty flavor. The flour has been used for hundreds of years, and is probably most well-known for making traditional Russian blini (crepes) – pass the caviar please. On the health front, buckwheat is a great source of fiber, gluten-free and contains eight animo acids making it a complete source of protein, good stuff.
For my buckwheat gems, I begin with an organic 100% buckwheat flour. Keep your eye out, as many buckwheat flours and mixes may contain a portion of traditional wheat flour. I enjoy the strong, nutty flavor, so I use pure buckwheat flour. Due to the density of whole grain buckwheat, I keep the pancake batter quite thin, almost like a crepe. Melt a tablespoon of butter in an 8-inch skillet or crepe pan until sizzling, pour in just enough batter to yield one large, thin pancake, complete with crispy brown edges.
My favorite topping combination is small, wild blueberries, pure maple syrup and a squeeze of fresh lemon. Leftover pancakes are great for a snack, and topped either savory or sweet – think of a crepe.
Thank you for joining me in the Bijouxs kitchen!
As always, enjoy. B