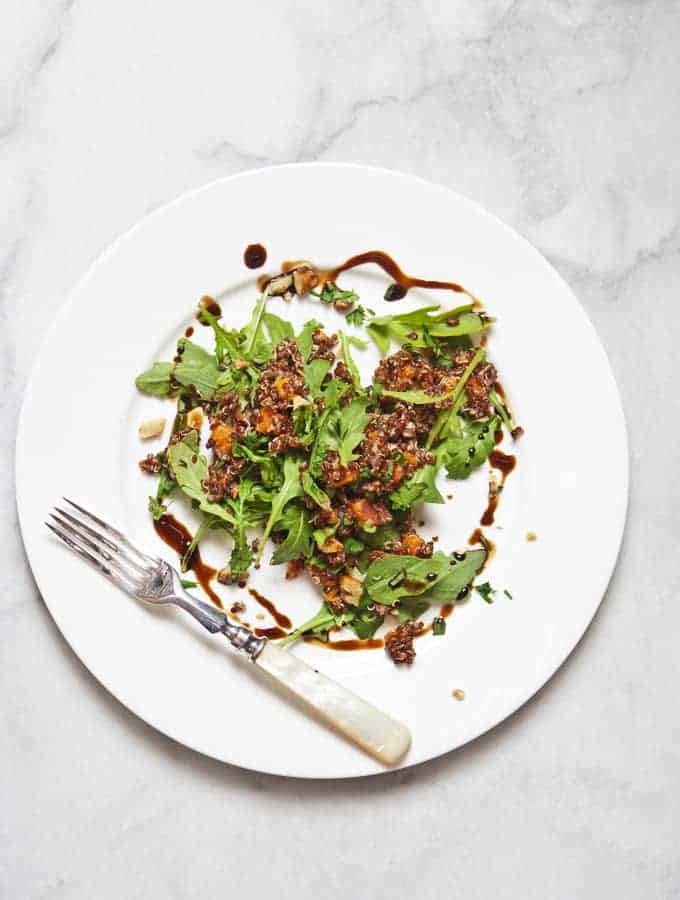 Colorful quinoa, good for you and so versatile. Quinoa with Sweet Potato & Pecans – getting more good food into your life, is always a little jewel.
"Goodness how much there is to learn about food." -James Beard. Yes, there truly is so much to learn, and that is what makes cooking so intriguing. Changes are always afoot. The current modern food movement is part old and new – reaching back to ancient whole foods, but often with a new and healthy take. Quinoa is getting a new look.
Quinoa is a seed native to Bolivia, but I did not know it is a relative of Swiss chard, spinach and beets? This essential seed contains 8g of complete protein, 5g of fiber per one-cup serving. With a mild flavor and light crunch, quinoa is a nice gluten-free substitute for rice or couscous. And, it comes in three colorful varieties, white, black and red.
I enjoy cooking with quinoa, mainly while working as a personal chef, a client favorite is Red, White & Blueberry Quinoa, and in my own kitchen enjoying Tomato, Pomegranate & Quinoa Salad. I'm always looking for a fresh, healthy take on an ingredient.
Quinoa with Sweet Potato & Pecans is a recipe to cook big-batch, then use it in a variety of ways during the week. This recipe from Chef Allen Campbell, personal chef to Tom Brady and Gisele Bundchen. It's a flavorful, healthy way with quinoa.
First, a colorful collection of ingredients: red quinoa, sweet potato and a touch of cinnamon, cooked in a savory vegetable broth to add a depth of flavor, with a little crunch via pecans. (See COOK'S NOTES on recipe card for a few cooking tips) Surprisingly, the combo is not sweet.
Use the quinoa 'as is' for a side dish alongside simple roasted or grilled main dishes. Toss with arugula and a drizzle of aged balsamic vinegar to make a salad meal, as I did here. I'm loving the grains(seeds)+greens combos as a vehicle to include a plant-based protein to my salads. This salad has no added fat, but is packed with flavor. For breakfast, warm up quinoa then top with sliced bananas and splash of almond milk for a quick breakfast bowl. I'm sure there are many ways to enjoy this quinoa, I'd love to hear your ideas.
Getting more good food into your life is always a little jewel. Thank you for being a part of Bijouxs!
As always, enjoy. B