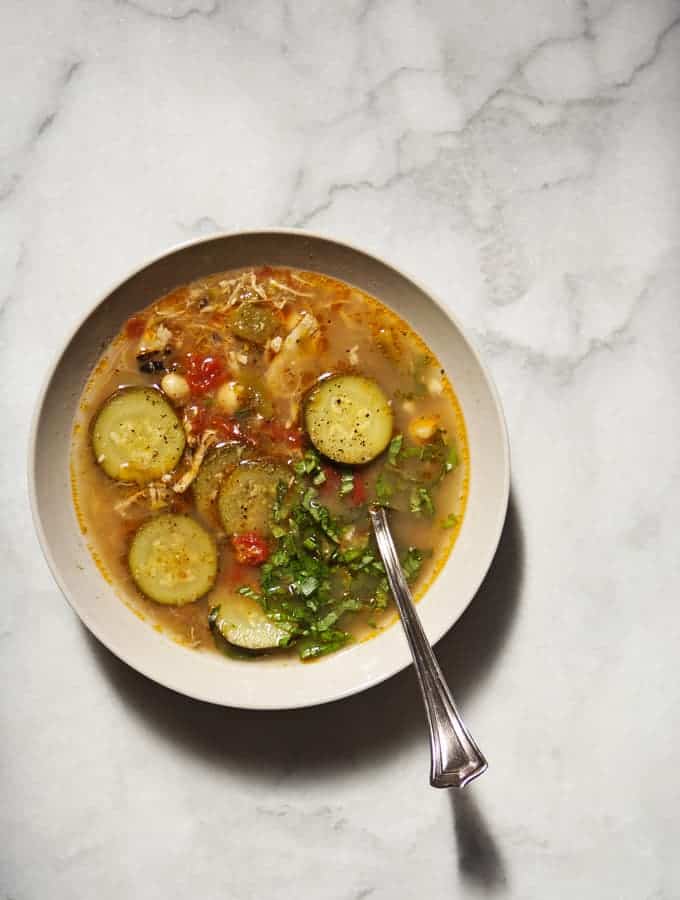 A little jewel is a bowl of soup that makes a meal – Aztec Chicken Soup is a hearty, healthy bowl that is packed with vegetables. Soup's on!
Ready for a warming bowl to make on Sunday and enjoy during the week? Making soup from scratch is a gratifying cooking experience. This simple, hearty soup is almost a stew. It begins with a chicken and green chile base, then includes garbanzo beans, zucchini and finishes with a combination of fresh toppings.
First, cook bone-in chicken breasts to create a light broth, this step can be completed ahead of time. Next, a garlic roux provides structure to the light broth, then the chicken meat, mild green chiles and tomato are added. Once the soup base is developed, garbanzo beans and zucchini are added for a brief cook. The soup is enhanced when topped with fresh, cool toppings, providing a counterpoint to the warming bowl. Here, I kept it simple with just fresh basil.
Aztec Chicken Soup is a light, yet a satisfying bowl that can make a meal. I freeze leftovers in single portions to grab for a quick bite. My soup was inspired by a recipe from a vintage little jewel cookbook in my collection "Cooking for a New Earth" by Carl Jerome. Of course, add your own touches to the soup to make it your own little gem.
Making soup from scratch is always a little jewel.
As always, enjoy. B