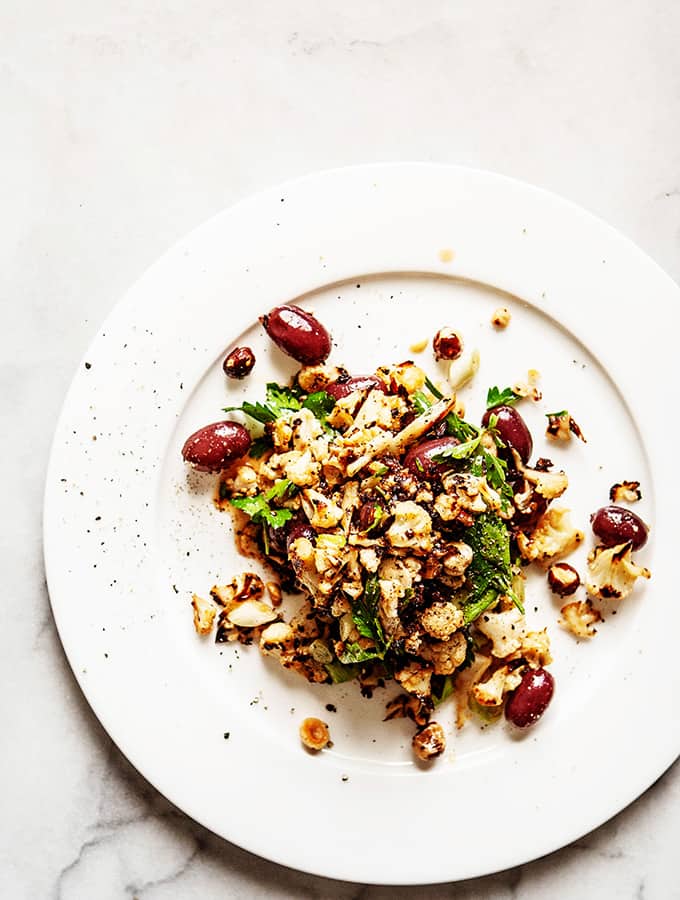 As my luck would have it Pickled Grapes are now a bit of a food thing, so here's a salad that includes these delightful little jewels–Roasted Cauliflower Salad with Spiced Pickled Grapes.
SALAD DAYS
Salad days are here again, and what better way to kick things off than with a fresh new salad, one that includes those Pickled Grapes we made last month. What's not to love about roasted cauliflower? It's everywhere and in almost everything as a stand-in for something starchy. But in this salad the cauliflower is added to show off the vegetable perfectly roasted and used as the major component of this salad, along with crisp hazelnuts, herbs and of course the famed pickled grapes from last month on the blog.
ROASTED CAULIFLOWER SALAD WITH PICKLED GRAPES
I love the pickled grapes, I know they seem a bit odd, but they are wonderful. The grapes are simple to create, packed with flavor and can be used in a variety of recipes from starters to desserts. They work as part of a cheese board, can be folded into yogurt, and just eaten right out of the jar.
These little jewel grapes are tossed with roasted baby cauliflower and other players to create a salad that feels fresh and new. I stumbled on this recipe at an Aussie restaurant website-always dreaming of a getaway. I think we along the Southern California coast share a common vibe with the Bondi coast. Surfing and fresh local produce are both a part of the scene. I have adapted the recipe slightly for this post to include the on-hand items I had in the kitchen. The salad is salty-sweet from both the grapes and the honey-mustard dressing, a winning combination.
Yes, salad days are here again.
As always, enjoy. B