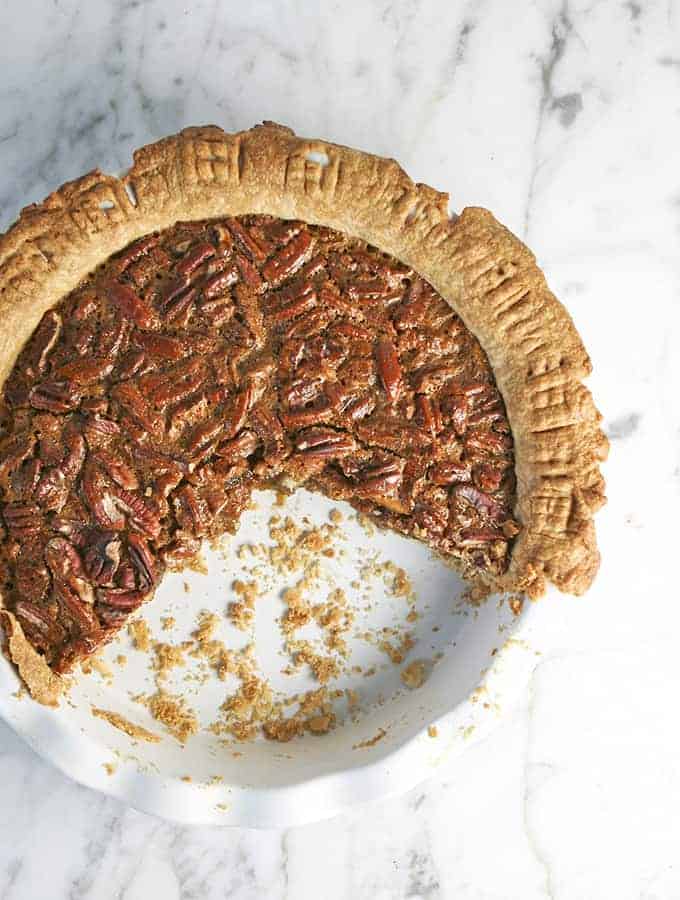 What's the secret to Country Pecan Pie? A pecan pie defined by layers and layers of crispy pecans bathed in a rich, buttery toffee, surrounded by a crisp crust, are you with me? This pecan pie is a taste of going back home–a little country jewel from Bijouxs.
A family holiday tradition, this pecan pie always brings ooh's & aah's when guests realize that there are not just pecans on top of the pie, but all the way through, yes, right down to the bottom crust. This pie exemplifies the country pies created in my grandmother's Nebraska kitchen. Family photographs indicated a very rugged farm life, where simple desserts, such as pies, were a fixture on the dessert table.
Generations ago, the more costly nature of pecans defined this pie as a once-a-year family tradition during the holiday season and perhaps explains the quite lavish use of pecans in this pie.  No fancy arrangement of pecans perfectly placed on top–instead pecan halves are mounded high into the shell. The pie crust is finished simply with a cross hatching using the tines of a fork.
I think one secret to Country Pecan Pie is the rich, buttery toffee filling that bathes the layers of pecans. It is created with a special step that cooks the butter and brown sugar together briefly, which advances the caramelization process before the baking begins. The toffee filling is poured into the pie shell, which has been filled lavishly with pecans, then off into the oven to bake, emerging as Country Pecan Pie.
Sharing a little slice of going back home–Country Pecan Pie for your holiday table from Bijouxs Little Jewels Collection.
As always, enjoy. B