"Sometimes it is the only worthwhile product you can salvage from a day: what you eat…Cooking therefore, can keep a person who tries hard sane." John Irving wrote in The World According to Garp (1978) about using quality ingredients without shortcuts and offers cooking as a way to stay sane. Mary's Cherry Pie- a little jewel, cooking to stay sane.
John Irving's quote has been fixed for years on the opening pages of my 'in process' cookbook from day one – my family cooked to stay sane and so do I. Through decades of challenges, including two world wars and the first Great Depression, Mary Magdalena, also known to me as Grandma, was a baker and home cook extraordinaire.
Although many family and friends clamored for her recipes, she quietly and humbly baked every Friday, using no recipes, no measurements; she baked with her head and her heart. Before I entered school and for many years after, I joined Mary in her kitchen learning all her secrets of home keeping, including baking, obtaining a most coveted advantage over all the rest of the family. I learned her techniques – but the actual recipes, now that was another story. My mother and sister made attempts to gather her recipes and now, as sole heir, I have been left in charge of the collection, coming to understand that pret'near 3 cups of flour is very close to 2 3/4 cups.
Pies were a favorite from Mary's kitchen using her own garden grown fresh fruits and in winter her canned fruits stood in to take their place. Simple and straightforward pies, a flaky crust with a burst of fresh fruit inside, no adornments or extra spices were required. The crust was the usual half butter-half lard (I order from Deitrich's Country Store) or shortening recipe filled with fresh fruits tossed with sugar, perhaps a little lemon juice and often cornstarch to thicken the juices when making a stone fruit or fresh berry pie.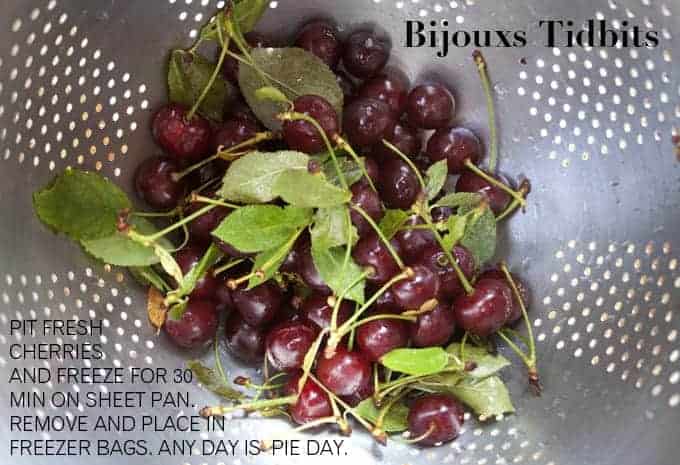 Tart pie cherries were the stars of Mary's Cherry pie, either using fresh during summer or her simply canned cherries for a winter pie. During the summer height of cherry season, I patiently pit and freeze tart pie cherries in 2-pound bags, knowing the joy a cherry pie during the dreary days of winter will bring.
February is National Cherry Month, so a salute to this glorious fruit seems in order. Frozen tart pie cherries are available online, perhaps an order shared between two friends? Sweet frozen cherries may be substituted with a reduction in sugar, but a tart cherry pie is a very special pie.
Smack in the middle of February's often dreary and dark short days there is power and perhaps sanity in pulling out a bag of cherries from the freezer and baking a pie. Mary's Cherry Pie is a simple pie, a little jewel of quality ingredients and perhaps a way to stay sane.
As always, enjoy. B