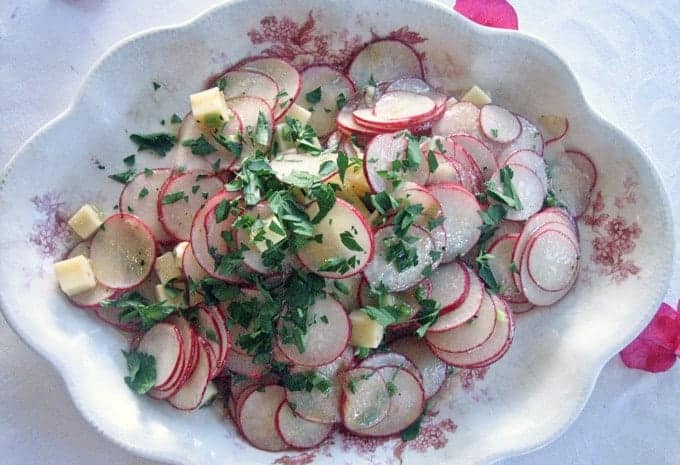 In looking for an easy, fresh and new salad to serve as a side dish for the holidays I considered the humble, yet beautiful radish. Radish Salad Lugano features the 3 C's essential for a holiday side dish – color, crunch and cinch! Holiday Bijouxs are back in swing.
Up front I will disclose my family's penchant for radishes; in salads, sandwiches and just "as is" dipped in sea salt – perhaps a hold over from some distant 200 year-old Gallic family gene? This recipe from The Seasonal Kitchen – A Return to Fresh Foods by Perla Meyes (1973) reminds us that seasonal fresh cooking will always be in style.
The peppery, crunch and keen bite of this radish salad is offset by smooth creamy bites of Gruyere cheese, all tossed with a tarragon-infused vinaigrette. Garnishes can include fresh parsley, black olives and rolled anchovies, if desired.
The components of the salad may be made ahead and there is the cinch! Make the vinaigrette a day ahead, then 15 minutes before serving place the chilled sliced radishes (I use an inexpensive mandoline slicer to achieve a thin, even slice) in a bowl with the Gruyere cheese cubes and toss with the dressing. Garnish as desired, and serve "chilled, but not cold" as the author recommends.
Color! The color of the humble radish is captured beautifully in the lead photograph taken by a special guest to the Bijouxs studio (more about fabulous food photography to follow soon).  I loved the color of the sliced radishes as I prepped the recipe; magenta outlines and pinwheel patterned slices complementing the ethereal delicate pink floral pattern of my Grandmother's Homer Laughlin Angeles China. I then decided on a California holiday table of white linens and china with magenta accents of bougainvillea blossoms and pomegranates.
The seasonal kitchen, fresh foods from the Bijouxs kitchen.
As always, enjoy. B