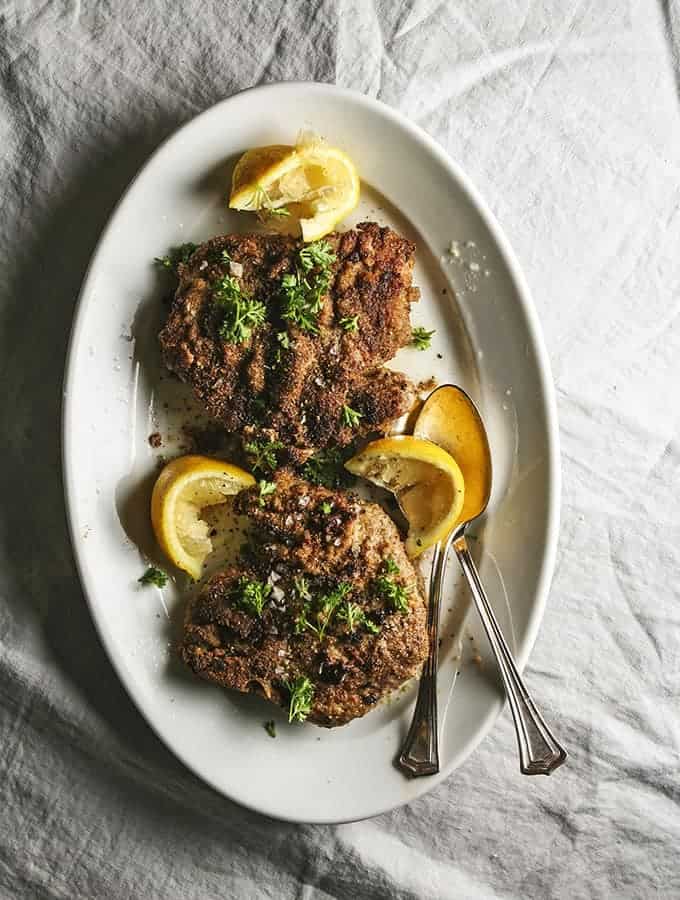 Oh, fickle February – yesterday you were sunny and warm, and today you are blustery with rain – a perfect day to tuck in with a warm, comforting meal. In the new kitchen I am relying on simple little jewels from the collection – supermarket friendly, quick and easy on the budget. Pork Chops alla Milanese – rustic simplicity, always a little jewel.
Imagine…beginning a new kitchen. Literally, starting from scratch to build a culinary pantry. All the basics – flour, sugar, spices, etc. – that is where I am, beginning again. I have to smile because it seems whatever spice, condiment, or pantry staple I need for a recipe, it's the one that is not yet in the new pantry. Ok, it's back to basics for now in the Bijouxs kitchen.
The blustery cool weather that still appears in the Southwest calls for a little comfort, perhaps tonight from a platter of crispy pork chops, alla Milanese. I share with you this most simple little jewel.
The recipe began for me in my first kitchen, during the time I was attending cooking courses with a focus on the country style of cooking in France and Italy. This recipe is based on Cotoletta alla Milanese, a recipe that is recorded in Italy as early as 1134. It is traditionally made using a thick bone-in veal chop, passed through an egg wash, coated in bread crumbs and pan fried in butter until crispy golden brown – a Milano classic.
With time, I have adapted and settled into my own way of creating Cotolette di Maiale alla Milanese, that is Pork Chop alla Milanese. A bit more humble, a little lighter and all with the ease of a supermarket stop, great taste is possible.
I begin with bone-in pork chops, rib or loin, thick or thin, whatever looks best. One issue is that pork is served well done, so it can become dry. So, to remedy this I like to marinate the chops briefly with shallots, herbs and vinegar to impart a layer of flavor and moisture into the chops, similar to a brine. I stay traditional with the breading process, first passing the chops in an egg wash, into the bread crumbs plus a 30 minute chill in the refrigerator to help set the breading.
Next, simply sauté the chops until crispy and golden brown. I use a combination of butter and olive oil, beginning in a hot pan, then reducing to a medium heat to slowly brown the chops, about 8-10 minutes per side for 1/2 inch thick chops. Adjust the cooking time based on the thickness of the cut you select. I leave the chops undisturbed in the pan as I cook each side to allow the crust to set, and if by chance a little bit of crust breaks off as I turn them, I don't worry.
To serve these crispy chops, season with an ample sprinkle of flaked sea salt and freshly ground black pepper, a bit more parsley, plus a squeeze of fresh lemon. Keeping it simple, always a little jewel from the Bijouxs kitchen.
As always, enjoy. B