Bijouxs is serving up Bobotie, don't you just love the name? Perfect for fall entertaining the grown-up crowd, this South African savory meat pie reflects a melting pot of cultures and spices, resulting in a dish both rich in flavor and in history. A little jewel to spice up your fall and holiday baking.
Bobotie is a dish of antiquity dating back to the 17th century, orginating from the region around Cape Malay. The melding of the Dutch and Cape Malay cultures and cuisines of this time produced a savory-sweet meat pie that today is best known to incorporate such spices as ginger, lemon rind, curry, mango chutney, raisins and lemon leaf.
Bobotie is centered on abundantly spiced minced meat, such as lamb, chicken beef or pork, and then topped with a lush, savory custard topping made of milk and eggs. A good frame of reference for this dish would be a Shepard's Pie or even the lamb and creamy texture of Greek Moussaka.
The traditional complex layering of spices and flavors centers on a mild curry base. The Bijouxs take on the traditional recipe incorporates sweet raisins and chutney, balanced by tart lemon peel, with small pearl onions and pine nuts (courtesy of my friends at Frieda's Produce) and a dash of hot sauce, creating a sweet to salty balance.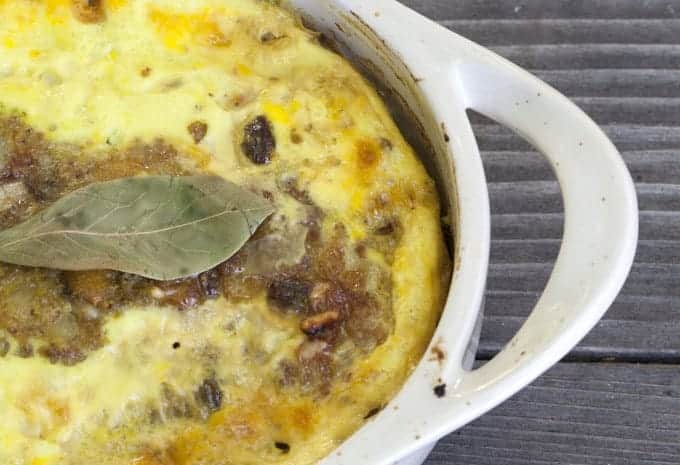 I have been making the dish for years with ground lamb, which tends to be the house favorite, although beef, chicken and especially pork (you know pork) are also choices for Bobotie. If possible, have your meat market grind lean meat into a coarse grind. I use fairly lean cuts of lamb and I grind them at home in the food processor, another option.
To accompany Bobotie, think traditional curry garnishes, such as chutney, bananas or Bijouxs selected a North African garnish, serving couscous with preserved lemons, bowls of olives and additional preserved lemon, decidedly incorporating savory and salty sides to this slightly rich, sweet casserole. Bobotie is a make ahead dish that can be reheated gently in a low oven prior to serving.
Bobotie provides a lovely cuisine journey, bringing with it the history and complex flavors of South Africa, a little jewel for your guests.
As always, enjoy. B