So fresh and simple, yes this is one of my favorite desserts. Spice Roasted Pineapple with Vanilla Bean Yogurt has been made many times over in the Bijouxs Kitchen for years, however my recent change was to make the dessert sugar-free. Could it work? Yes it did and with wonderful results.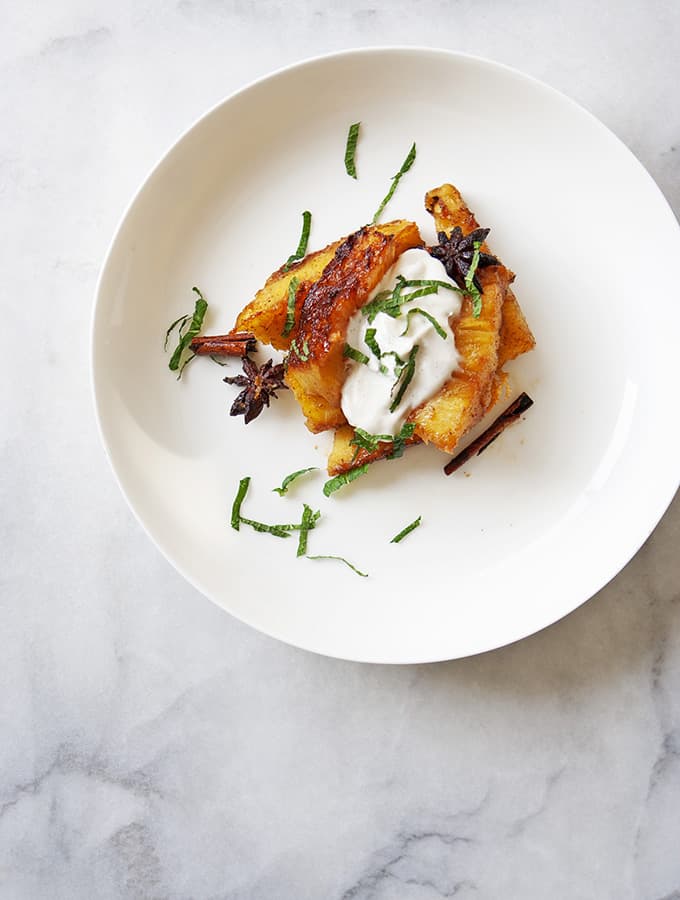 SPICE ROASTED PINEAPPLE
I originally began making this recipe early in my health food walk, discovered in Gaylord Hauser's Treasury of Secrets, circa 1963. I had bought a used book and enjoyed many of the recipes, fresh pineapple being one with liqueur, of course no added sugar. For some years later I added sugar and roasted the pineapple achieve the crispy brown sweet glaze. As we know, fruit contains a high level of sugar naturally, so no need to guild the lily, but could I achieve a spice roasted pineapple without sugar?
Happily yes, a sweet golden brown glaze is possible on pineapple without using refined sugar. Lately, I have been developing recipes for a friend following the Plan Paradox Plan. Through this I have discovered many ways to cut the added sugar out of all types of foods. This newest take involves using Golden Monk Fruit Sweetener in place of refined sugar. Roasting with the combination of Grand Marnier liqueur, spices of whole cinnamon and star anise, amplify the sweetness of the pineapple. 
VANILLA BEAN YOGURT LABNEH
The rich and creamy Vanilla Bean Yogurt Labneh, creates a cool tart complement to the pineapple's sweetness. Do not let the name make this recipe seem complicated, it may be a name you are not familiar with in Middle Easter cooking. I knew this as fresh yogurt cheese, or really, it is just strained yogurt. I have been making it for years in my handy-dandy Donvier Yogurt Cheese Maker. No worries, this is very low tech and economical. Just fill the metal strainer section with the yogurt, cover and refrigerate overnight. You can also use cheesecloth and drain the yogurt over a bowl. Next day you will have a thick, rich creamy spread, almost like cream cheese. I like to add Vanilla Bean Paste but no sweetener to top the pineapple. It makes a delicious topping for desserts and for breakfast with fruit. Best of all you can use full-fat or low fat yogurt, your choice.
FRESH PINEAPPLE
Spice Roasted Pineapple best of all is very easy and delicious. If you do not have fresh pineapple (I found it on special and could not resist) feel free to use in-store cut fresh pineapple, or even canned works, just make sure the fruit is packed in its own juice. The fruits from Hawaii became my favorites after a 3-month stay in the islands.
Spice Roasted Pineapple a true little jewel.
As always, enjoy. B