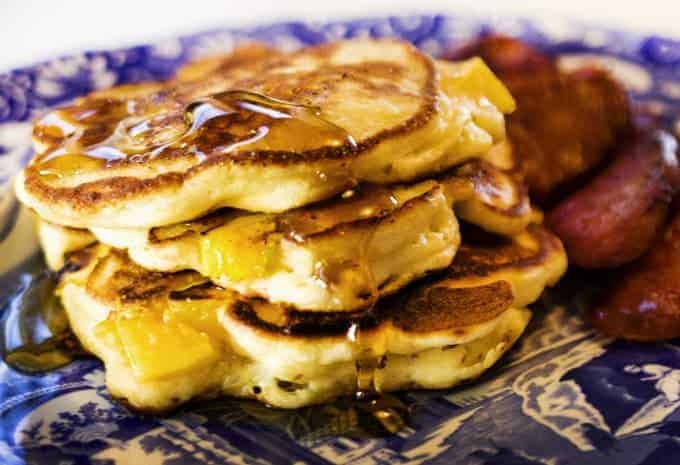 Hawaii, Kalapani Beach circa 1970's: Cher was the hottest ticket at the Kona Hilton, Kilauea had not yet erupted to eradicate the area and dirt roads still paved much of the island. A 60's Cadillac convertible loaded with teens, commanded by a local resident, takes shortcuts through the rainforest roads, all passengers giving thanks to the Menehune, finally turning into the long drive rimmed on either side with rows of tall papaya trees, terminating at a circular wood and glass house located on the lava rocks of Opihikao. My first trip to Hawaii is where its culture and food took hold, along with stacks and stacks of Papaya Pancakes – sweet little Bijouxs.
My visit to Hawaii was meant to be one month and turned out be to three–time passes differently on the islands. Young at heart and mind, traveling with a merry band of friends, supported with guidance from the family of our host, the 3-month Hawaiian odyssey opened my eyes to the culture and foods of Hawaii. I sampled sashimi from the family fridge, poi, Teri-sans, Portuguese sausage, lunch plates, and every food I had never tried before. I think it was then, that I realized my fascination with food and travel – a foodie?
Dining on papayas became a daily ritual, especially at our home base with groves of trees; we were flush with this sweet, creamy fruit. Joy = waking up to the crispy sweet smell of Papaya Pancakes on the griddle, prepared by our mom-away from home, who fed and cared for the young group on this summer retreat.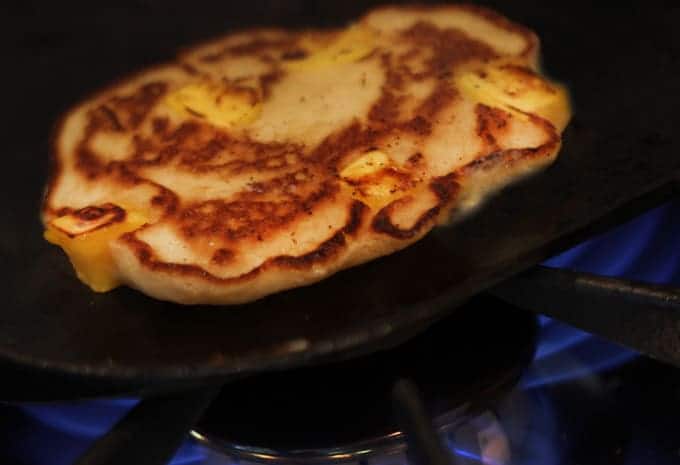 Papaya Pancakes are simply fluffy-light and flecked with sweet bites of fruit. The exposed bits of papaya caramelize beautifully on the griddle, and need only be topped with real maple syrup or for a more decadent treat, sprinkle with chopped macadamia nuts, and perhaps coconut syrup. I seem to favor the simple version, allowing me to fully savor the sweet papaya nuggets.
The pancakes may be made with any variety of papaya, here I used Strawberry papaya, as they were plentiful, but ripe Hawaiian papayas are firmer, with a smoother texture: use the variety that looks best in your local market. I have even gone so far as to add dried papaya chunks, when fresh papayas were not available.
The pancakes are beautifully photographed by Bill Livingston during a visit to the Bijouxs kitchen/studio and shown served with crispy Portuguese sausage.
It's May and summer plans are being formulated, reminding me of Papaya Pancakes shared by a mother cooking for a rag-tag group of kids one summer long ago. Mothers are always cooking up memories. Bijouxs thanks all Mothers everywhere for the little jewels they share with family, friends and strangers alike. Aloha and Happy Mother's Day.
As always, enjoy. B