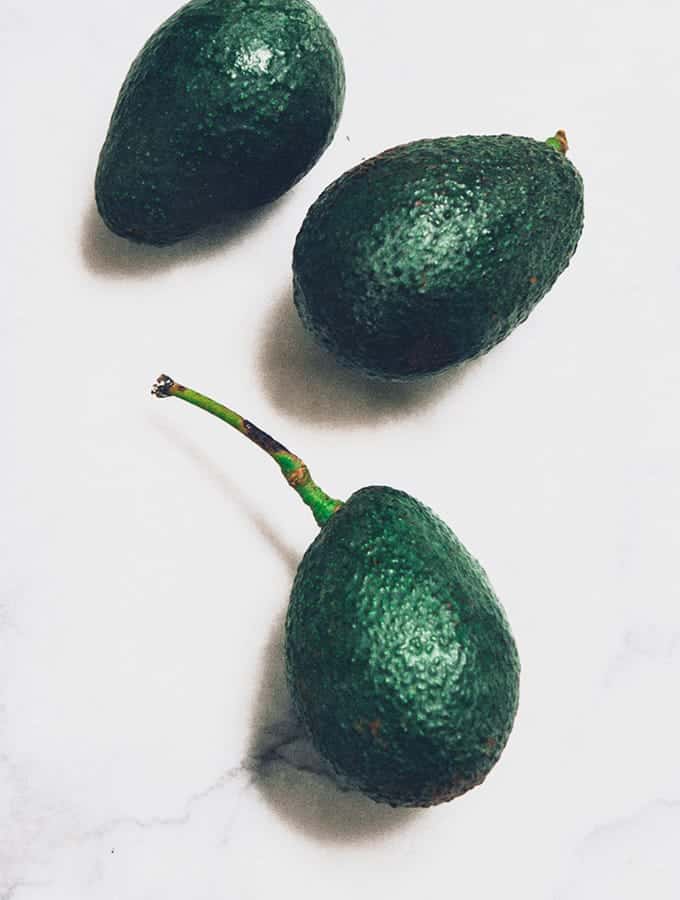 Happy Earth Day! What easier way to celebrate this beautiful day with a beautiful fruit from the earth.
California Avocado with Ponzu Sauce – a simple little jewel.
Recently, a brown bag with my name on it appeared at my front door, inside were three beautiful, still warm from the sun, Hass avocados-a get well gift from a neighbor who knows one my favorite foods. Bijouxs website has been quiet recently, due to a muscle injury in my lower leg (moving, I lifted a heavy object, oh no) so, no cooking, no photos. I did manage to grab a photo of these beautiful gifted avocados.
It is always a comfort to return to foods of our childhood whenever we are under the weather. For me, strange as it seems, an avocado half filled with soy sauce (now ponzu for it's citrus & sweet qualities) was what my Mom would make for me. The saltiness was akin to soup, and the creaminess of the ripe avocado spelled comfort.
This makes sense because I grew up next door to citrus and avocado groves. We would making runs across the highway to snag fruit. I'm pretty sure I ate about an avocado almost every day for those years. As kids, any fruit you could pick and eat in the veiled privacy of the groves was a true treat.
My love of avocados has remained pure, no toast needed. This is a simple way to savor the fruit, scooping out it's luxurious creaminess in the perfect half, filled with a salty goodness.
Now that the Bijouxs Kitchen has relocated up the central coast of California, the proximity to both the shore and groves of citrus and avaocados feels familair. Just a short 5 minute drive takes me along a rambling road, hugging the mountains with acres of groves.
"The great stillness in these landscapes that once made me restless seeps into me day by day, and with it the unreasonable feeling that I have found what I was searching for without ever having discovered what it was."
-Peter Matthiessen 1927-2014
This Earth Day I am sharing the simple beauty all around us, right here in our kitchens.
As always, enjoy. B