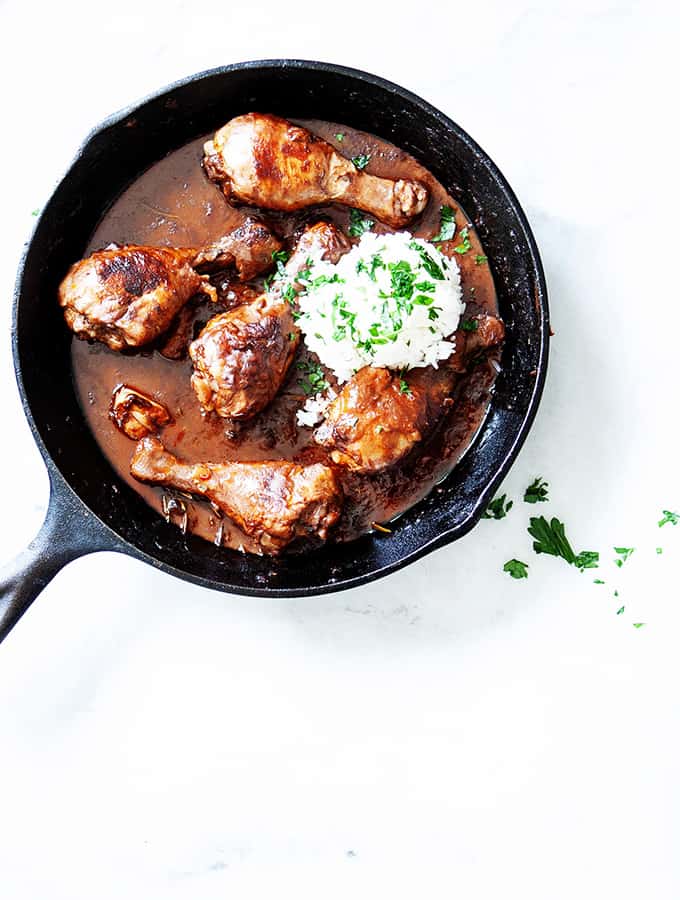 This recipe is a take on my Mom's total comfort dish of Pork Chops and Rice. We have not been eating as much pork, instead turning to chicken. Drumsticks are down home, kid friendly and also budget conscious. My son once had me step outside the kitchen to surprise me with some chicken and rice, of course sans the wine. The red wine and garlic are newer adult additions to the family recipe. The basics are always a little jewel.
SKILLET CHICKEN
The recipe is very basic. Flour and season drumsticks, brown in the skillet. Next add garlic, bay and rosemary. Stir in the tomato paste, wine and broth. Cover and simmer until chicken is cooked through, about 45 minutes. Yes, you can use other cuts of chicken, such as thighs or breasts, but use bone-in for maximum flavor. We serve this with steamed rice, which we end up mixing with the sauce to make very flavorful rice to accompany the chicken.
CAST IRON SKILLET
The cast iron skillet is a kitchen basic. Economy, even heat distribution and down right indestructible are the features of owning these skillets. Cast iron goes from cooktop to oven and can sear a steak or burger like nothing else. Cast iron was part of family heritage recipes such as Pan-Seared Chicken Thighs with Gravy and Shepard's Pie. I have even used these iron pans outdoor on the grill, especially when I cook Filet of Sole with Brown Butter & Lemon. Keeps the fishiness out of the kitchen.
Please enjoy the Little Jewel from the Bijouxs Kitchen.
As always, enjoy. B