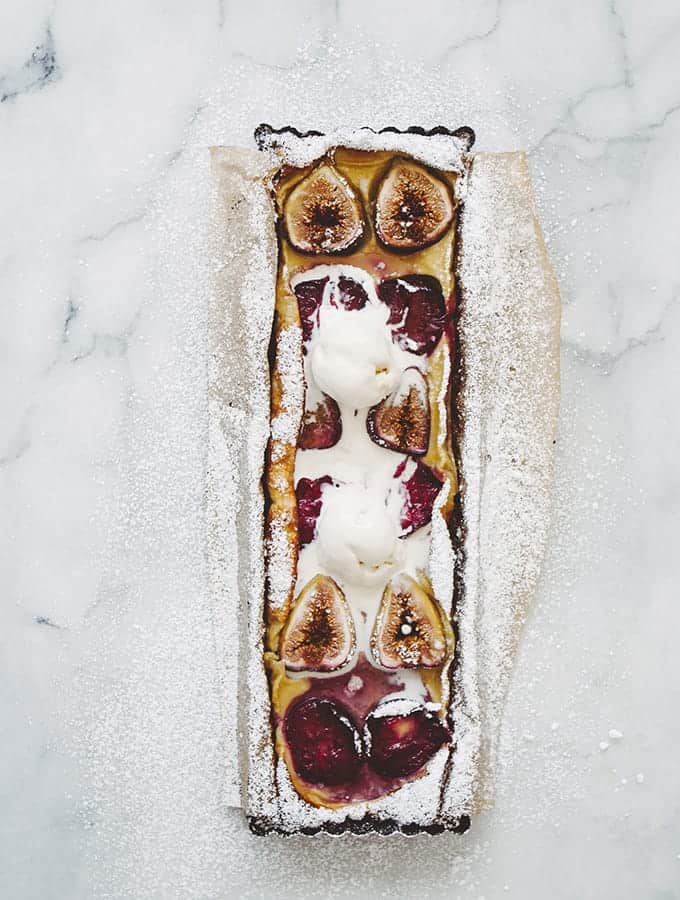 Taste the lush nature of summer fruit in the newest little jewel from the Bijouxs Kitchen–Fig & Plum Flaugnarde. Summer SIMPLE.
First, don't let the fancy word "flaugnarde" put you off–it's really just French term for a simple egg, flour and milk batter covering fruit and baked. Similar to a clafouti, which is made with cherries, a flaugnarde is made with apples, peaches, pears, plums, prunes or other fruits. Resembling a large pancake, the dish is dusted with confectioner's sugar and can be served either warm or cold. In short,  a lovely summer dessert.
Summer fruit is so luscious and abundant right now. A flaugnarde is a simple, rustic dessert that really shows off the fruit. I shared it here, made using summer berries, and now with baskets of figs and plums in the house, another flaugnarde was in order.
It's really just as simple as placing the fruit in the pan and pouring the batter to surround. After a short bake time you have a custard-like pancake, all puffed up with a crispy crust and soft creamy middle.
I love baking in this rectangular tart pan,  which great for slicing into individual servings. Vanilla ice cream is scooped onto the top of the still-warm tart. It melts to create a wonderful, vanilla crème anglaise-like sauce to accompany each serving. SIMPLE.
Wishing you a very happy 4th from Bijouxs.
SaveSave
As always, enjoy. B