TOMATOMANIA!!  It sounds like a campy 50's movie, but tomato recipes are the stars of this show. This show recipe therefore warranted a "director's cut." Bijouxs latest little jewel recipe with the power of memory & little humor – Tomato Upside-Down Cake.
Yes, cooks Tomatomania! has struck the Bijouxs kitchen, again. Long ago, 'when the world was steady' (my way of citing former good economic times) Tomatomania! was held in my own backyard of Pasadena, at Hortus, a charming (now closed) plant nursery that was founded 20 years ago. The events featured every kind of tomato variety, a chance to grow and learn about summer's most storied little garden jewels. Tomatomania! productions still are live in early Spring.
Fast forward. Today I am beginning a tiny little garden back in the climate I love, and what do I see, but an ad for a cookbook (yes, another to add to the collection) called Tomatomania! by the event founder Scott Daigre. Bring it to me Amazon. What a joy to know that Tomatomania! lives on and good tomato growing tips and recipes. Ahh, the power of memory.
Tomato Upside-Down Cake, what could be simpler & sweeter? A light cornmeal cake topped with a buttery-brown sugar crust, encrusting sweet slices of heirloom tomatoes. This is a unique must-try recipe, with very pleasing results. In prepping, cooking and photographing recipes for my website, so many ideas come to mind about how to convey the recipes.
My years around Hollywood made me familiar with a term 'director's cut'–an edited version of a film (or visual project) that is supposed to be the director's own approved edit. I have never thought about my artistic version of the images behind the recipes–black & white for colorful tomatoes? What? Well, that's what caught my eye. I have always had a love for black & white photography, sans color, but loaded with texture. So, I included my 'director's cut' images, the behind the scenes little jewels, just for fun.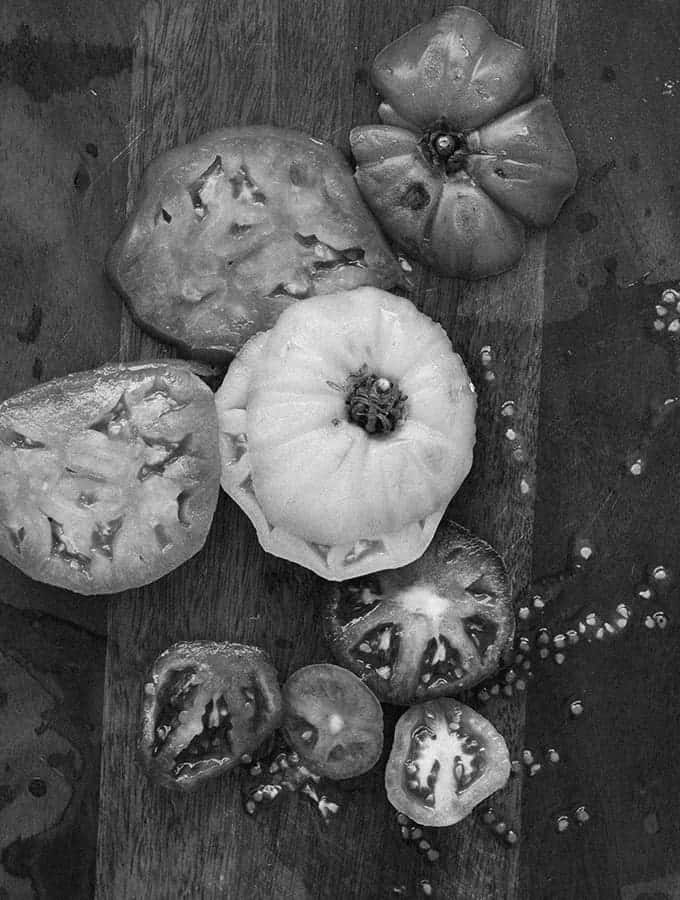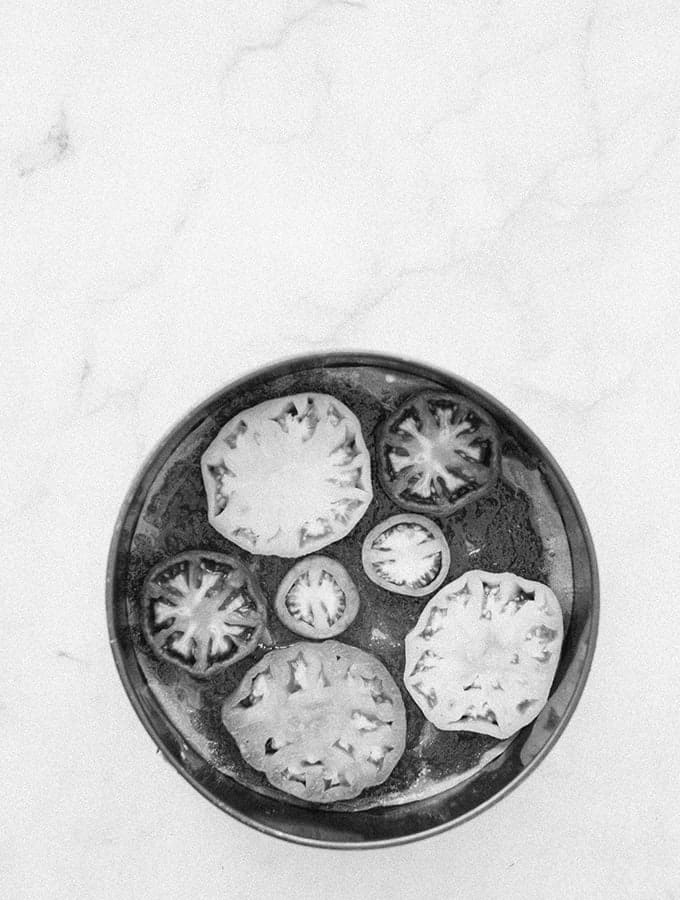 Join me in Tomatomania! and enjoy this lovely Tomato Upside-Down Cake, a new little jewel in the Bijouxs Kitchen. Happy Summer!
As always, enjoy. B