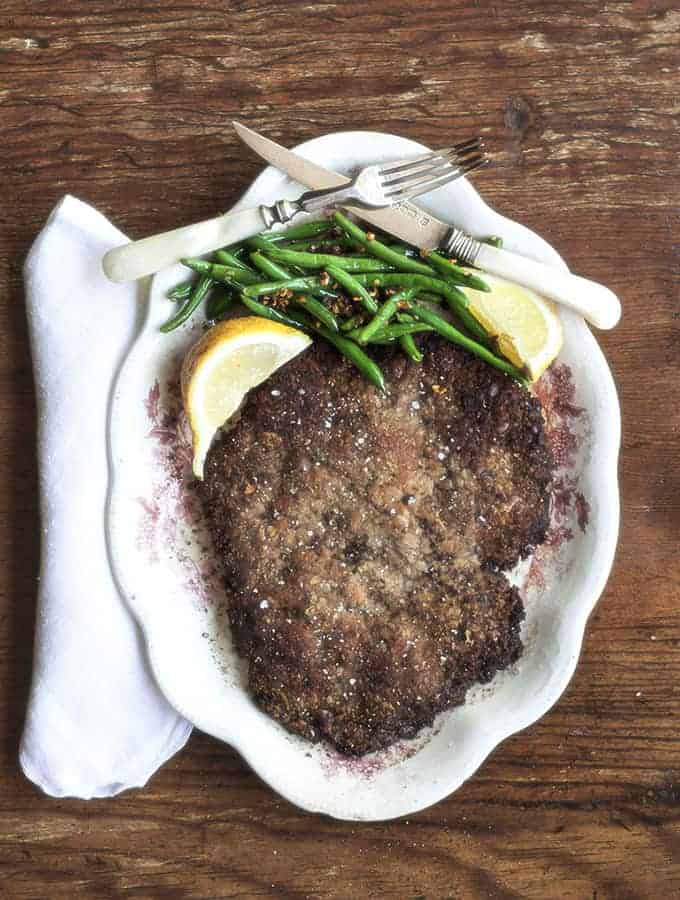 I thought traditional German schnitzel was only made with veal, but it appears my family heritage recipe using pork was in line, this ingredient was available to the new 'urban farmers' created by the Great Depression. A classic simple adaptation is always a little jewel, head with me to the heartland for a memorial Nebraska Schnitzle.
NEBRASKA BOUND
In the mid-1800's, when my family immigrated from Germany, they headed west and settled on Nebraska. Like so many families, times were lean and staking out a small plot of land to raise food was essential.
Later, when the Depression hit, the rural famers fared a little better, being able to raise most of what they needed. This thin crispy crust (the secret is crushed saltines) is straight out of the Depression, via my Grandmother, the best cook I have ever known.
SIMPLE SCHNITZLE
What is schnitzel? The English term schnitzel means, in general, all types of breaded, fried flat pieces of meat, simple. In Germany, Schnitzel is usually made of pork, although turkey and veal are also common. It is usually served with French fries.
The best Schnitzel I have ever had was served to me in a small chalet on the ski slopes of Austria, what an incredible trip. The cook simply breaded pounded thin slices of veal, fried until they were a deep brown, and super crispy. The schnitzel was served family style of a large platter. I savored every bite.
SIMPLY BEAUTIFUL FOOD
The simplcity of cooking fresh food at home rings just as true today and it did in the 1930's. Cooking simply beautiful food is what Bijouxs has always aimed to bring you. My recipes reflect the real cooking of tried and true recipes, tested over 30 years of my cooking expereince. This family recipe comes from my Volume One, Family & Friends Cookbook, available here.
Wishing you great cooking memories from home.
As always, enjoy. B