"Simplify, simplify, simplify!" Henry David Thoreau's words still ring true in 2012. A simple way to simplify? Soup meals are a healthy little change that lightens your weekly menu. Simple Pea Soup captures some of the fresh ingredients of winter into a bowl of calm comfort.
Simple Pea Soup is simple in that it is easy to prepare and contains a simple palate of flavors – fresh sugar snap peas and fresh spinach along with light undertones of leek, brightened with lemon and fresh thyme, made creamy with the smoothness of chickpeas and a whirl in the blender. Garnish with lemon slices, fresh thyme, or change it out with a dash of olive oil and sprinkle of Parmesan, or a handful or crisp homemade croutons.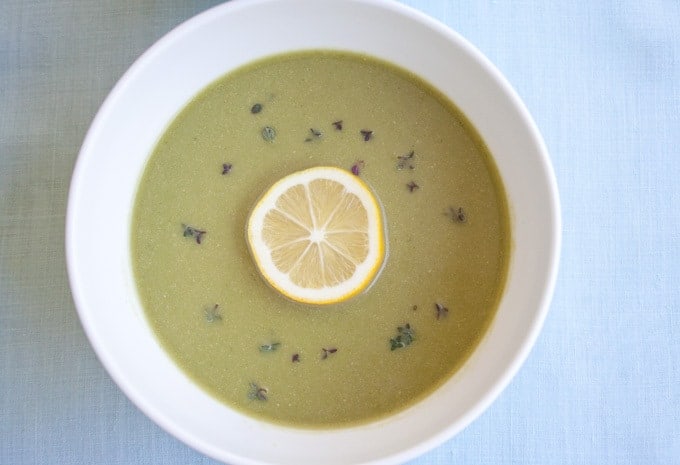 Soup meals adapt to most schedules, either for lunch or dinner. By simply replacing out a few denser meals with an easy, light soup meal during the week lightens both our body and our mind. To round out a soup meal, begin with chilled glass of fresh vegetable espresso, tomato or a vegetable blend, a light green salad dressed with lemon and olive oil and wrap up the meal with broiled grapefruit (cut in half, sprinkle very lightly with raw sugar and boil quickly to caramelize the sugar).
Simple Pea Soup – a light, Zen-like satisfying bowl to simplify a New Year.
As always, enjoy. B