The Easter season evokes childhood memories of baskets of candies, chocolates, and sweets of all varieties.  My son's favorite candies have long been the chocolates that are fashioned in the likeness of an orange. He relishes the theatre of giving the "orange" a good bash on the counter and watching it break into prefect chocolate orange-scented segments. To address the family love of chocolate and citrus, an easy tart combines two lovely tastes – a Bijouxs l´orange.
It was not until recently that I have my own orange trees growing in my garden, producing such luscious beauties. Contrary to popular belief not everyone, even in sunny California has an orange tree, or has fresh oranges just hanging around, so I began making Tart L´Orange using an unlikely source: frozen orange juice concentrate. Turns out the orange concentrate flavors the orange curd filling nicely.
The tart is punctuated by bursts of chocolate via a thin layer of bittersweet chocolate jacketing the crust, and again in the lattice of chocolate ganache.
The filling is the orange version of lemon curd, via a vintage Maurice Moore-Betty recipe. Many of you have already conquered lemon curd, so this part will be easy. Be patient and cook the orange curd long enough so it takes on a fairly thick, pastry cream quality to ensure is sets up firmly in the tart; this only being said if you are impatient, like myself.
Use your favorite sweet pastry crust recipe and blind bake, or use the crust recipe here, which is really more like a cookie crust, the crumbly dough being a tad difficult to work with, but bakes up crunchy and sweet.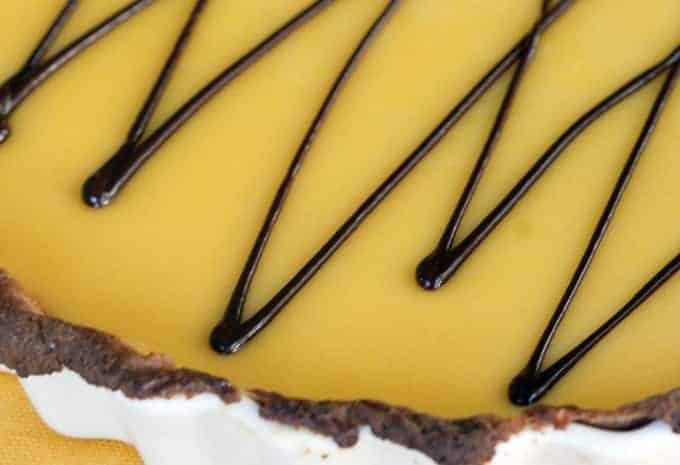 Chocolate ganache is another basic you probably have already encountered, and the only time I have got into trouble in this cooking venue is when I substituted out the chocolate and the sauce broke – a chocolatier I am not, so here I go the easy route and use chocolate morsels. I purchase multiples of those inexpensive squeeze bottles to apply garnishes to plates, in this case, use to create the lattice pattern on top of the tart. (I did mention I am not chocolatier?)
Tart L´Orange is dreamy with a scoop of vanilla ice cream, or a crème anglaise spiked with a bit of Grand Marnier, and you don't even have to break an orange.
Pure Bijouxs.
As always, enjoy. B