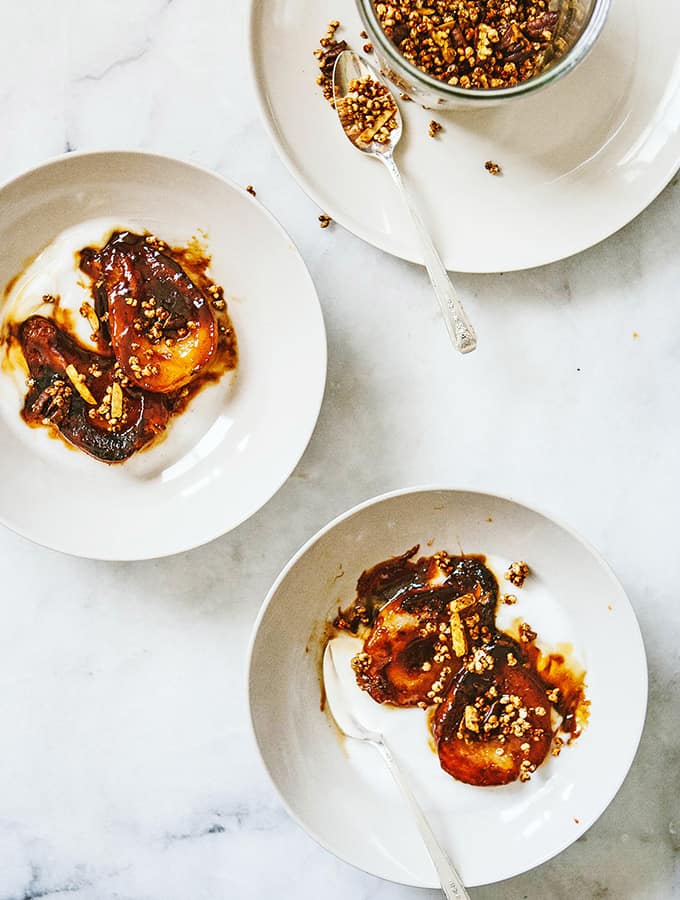 These pears are take #2 of my Salted Caramel Baked Pears recipe from early on the blog. I spiced things up with turmeric and served the pears over cooling coconut yogurt-Turmeric Caramel Baked Pears a little jewel.
FRESH PEARS
When these fresh pears turned up as a food gift from neighbors, my first thought was a cake, then I remembered my Salted Caramel Baked Pears, and decided to spice things up. Turmeric is layered within the recipe, first in the caramel sauce and then in the granola topping, What is not to love about golden turmeric?
BAKED PEARS
Because I am known as the 'cook' in the neighborhood with a food blog, I am the recipient of food gifts of varying types. Recently it was a few pears. I baked this recipe when it was cold and windy, now it's windy and hot, welcome to California.
Baked fruit for dessert is easy and when bathed in a sugary/butter caramel sauce it takes it up a level. This recipe is a one-skillet dessert. Beginning on the stovetop, then into the oven and back to the stove top if you prefer a deep, dark brown caramel sauce like I do. The edges reveal the burnt sugar sauce, take it as dark and you want to go.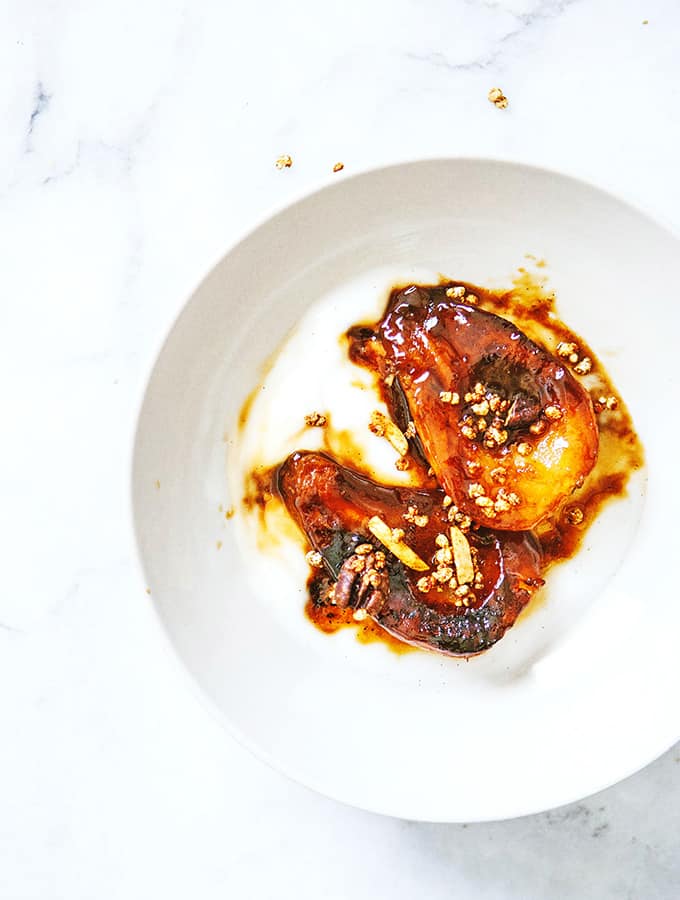 Turmeric adds a golden layer to the pears, echoed in the granola topping. The cool coconut yogurt provides a creamy finish for the sauce and pears.
SIMPLE DESSERTS
In these strange days, I have been cooking with the food I have on-hand, like most of us. So, many simple recipes are being fashioned in the Bijouxs Kitchen. I don't want to share any complicated intricate recipes currently, as most of us are confined to home and what we can grab at our random trips to the market or via grocery delivery. Keeping it real in Bijouxs Little Jewels from the Kitchen. Well wishes to all.
As always, enjoy. B