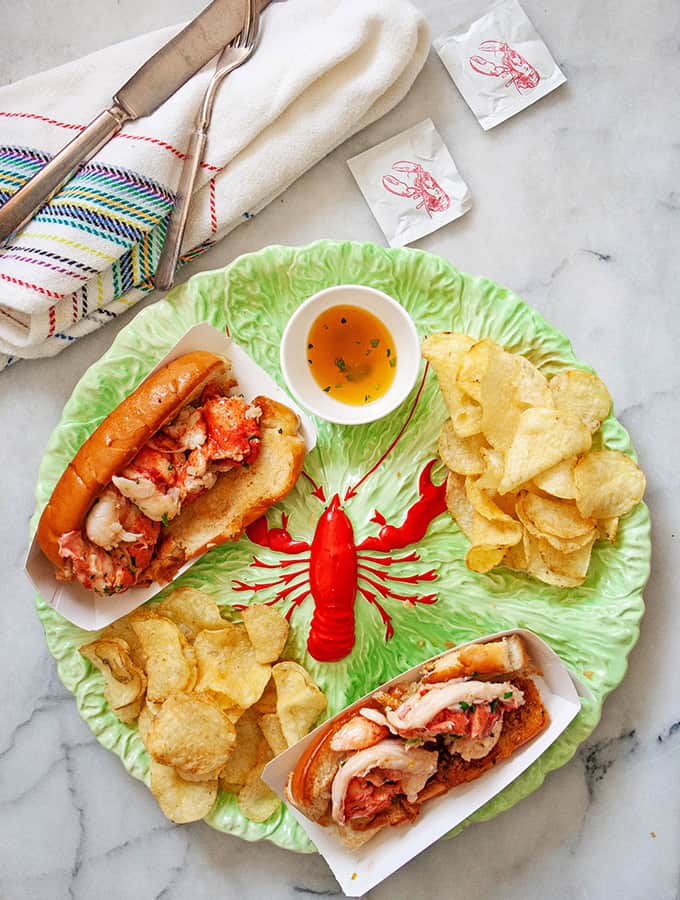 Summer arrived this winter, via a box of lobster rolls ordered from a dear friend as a very special New Year's treat-California-StyleLobster Roll, a special little jewel from the kitchen.
MAINE LOBSTER ROLLS
This New Years a box was delivered that contained a bit of joy, bringing back fond memories of savoring lobster rolls while visiting Maine coast. It's seems impossible to have these summer classics delivered in the dead of winter, but leave it to my savvy friend who discovered the most amazing food delivery service, Goldbelly. Really, this will blow your mind. Imagine being able to order iconic food from the best food companies all over the US, no joke. Being an LA girl, I quickly spotted my favorite Phillipe Beef Dip Sandwiches, along with amazing food from all over the state. 
The lobster rolls came from McLoon's Lobster Shack in Maine, named #1 lobster roll by Yankee Magazine. I was skeptical, but the lobster was some of the sweetest I have every had and the lobster roll kit was spot on. 
CALIFORNIA-STYLE LOBSTER ROLLS
Now to my recipe but first my story behind it.  Growing up in California along the coast meant years of dining on the best seafood, which is so many times served with garlic butter and lemon, oh, the tastes I crave. Coming from a food-centric family, I remember walking along the San Franciso wharf as a child, snacking of crab, shrimp cocktails then dining on lobster, this is all part of my food heritage.  Then, while working as a Private Chef I prepared a very special dinner which included Thomas Keller's Butter Poached Lobster from the classic French Laundry Cookbook. It was a huge success, worth the effort. It is always wonderful to bring joy to people with food.
My California take on the lobster roll is simple-basically bathe the lobster meat into a pan of garlic infused butter, then toast the rolls in the residual butter left in the pan. Pile the roll high with the lobster meat, drizzling with roll with extra butter sauce and a little more chopped parsley. Add of course some kettle-cooked potato chips and summer is served.  Perfection. Now I know that traditional lobster rolls are served with a sauce configured with a combination of butter and mayo, but mayo has been on my no list since I was a kid, no egg & oil whipped together for me.
This totally kitschy and fun lobster plate was also a special delivery. My friend had a farm in Georgia that we traveled to at Thanksgiving and while visiting the antique shops in rural Georgia, she picked up this lobster plate. 20 years later I asked her about the lobster plate, and guess what, she mailed it to me. What a great memory and this was the perfect time to use the plate.
California-Style Lobster Rolls brought delicious memories and very special start to 2021, to better days. Stay well.
As always, enjoy. B