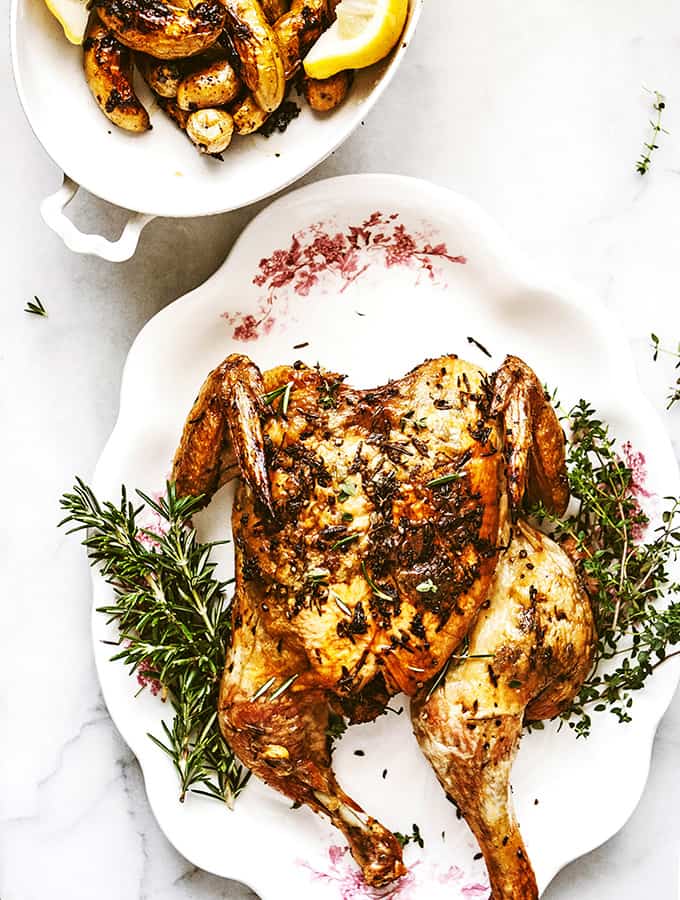 This chicken recipe has been in the Bijouxs Little Jewels Collection since 1986 when first published in W Magazine, the  fashion & design mag of the day. Grab this NYC little jewel.
CHICKEN QUATORZE
This chicken is a classic bistro recipe lightly adapted from Quatorze French Bistro in NYC, still going strong since 1984! Although there has been a location change since this intimate French bistro opened, the love remains.
LOUIS THE 14TH
The name QUATORZE, which means 14, harkens to many references. In 1984 the restaurant was on 14th street, NYC. With an nod to the Sun King, aka Louis 14th, New Yorker cartoonist, Jack Ziegler created an iconic illustration which was used for the restaurant.
BISTRO FOOD
This recipe is a nod to Traditional Bistro cuisine, simple in style. After removing the back bone allowing the chicken to lay flat, I left the chicken untrussed, allowing it to roast with a true rustic style. The star of the recipe to me is the dense combination of fresh and dried herbs for the long marinade, adding so much flavor.
Classic New York cuisine, always a Little Jewel.