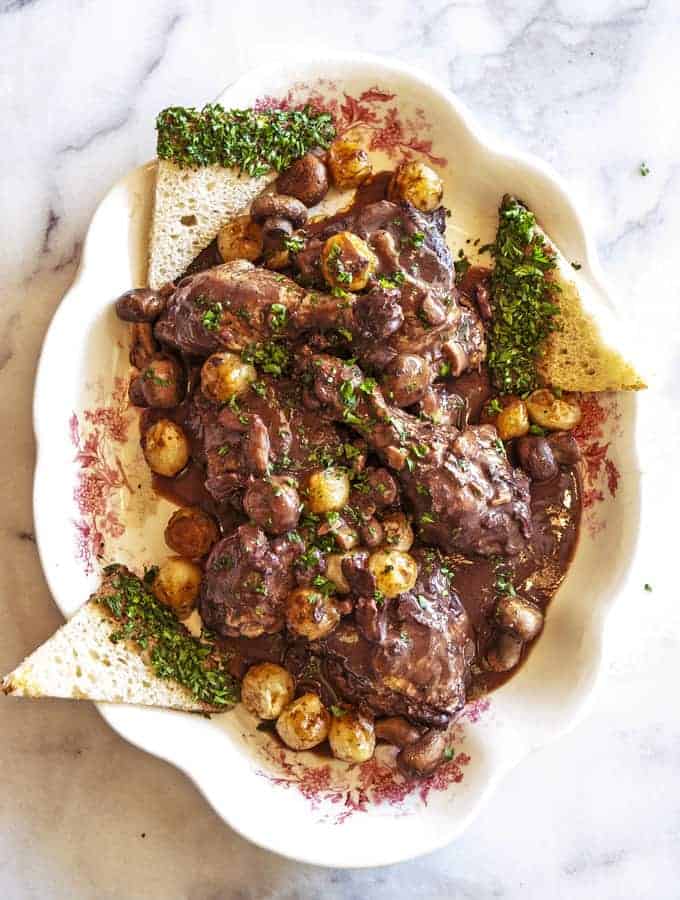 A fabulous recipe from Richard Olney's 'The French Menu Cookbook.' Coq au Vin (Chicken in Red Wine) – a Valentine jewel.

About three decades ago I started cooking. About the same time, Alice Waters started a restaurant. We both received the same message reading the same book, and one that Bijouxs still strives to embrace, that " one can only eat marvelously by respecting the seasons" and that "good and honest cooking and honest French cooking are the same thing."
No where better exemplified than in a simple, yet rich, dish of Coq au Vin (typically a young chicken) stewed in red wine. Richard Olney takes this humble dish and fashions it into a lovely menu, starting with a Shrimp Quiche, ending with Falmri with Raspbery Sauce (a baked pudding made with semolia). Wine reccomendations accompany each seasonal menu. I have learned so much from reading and cooking from his book. I encourage you to order the book and spend some time with it. If you love food, as I do, you will relish the attention to detail and seasonal pairings.
Now, to the star dish – with attention to detail and presentation, garnishes of sauteed mushrooms, small white onions, and croutons of white bread toasted then dusted with garlic and parlsey. The details are what make his version of Coq au Vin special, and if you break them into small tasks, you will delight anyone who is lucky to join you for dinner!
The stew takes on it's plummy-pink hue from the red wine, both a rich and a sexy Valentine's Day meal. The stew is fortified with a dash of cognac (why not?), after which it cooks in only about  30-40 minutes. The mushrooms and onions may be made ahead of time. You got this! And of course, like almost every lovely stew, it is as good reheated, so a great make-ahead option.
Coq au Vin, good and honest cooking is always a little jewel.
As always, enjoy. B