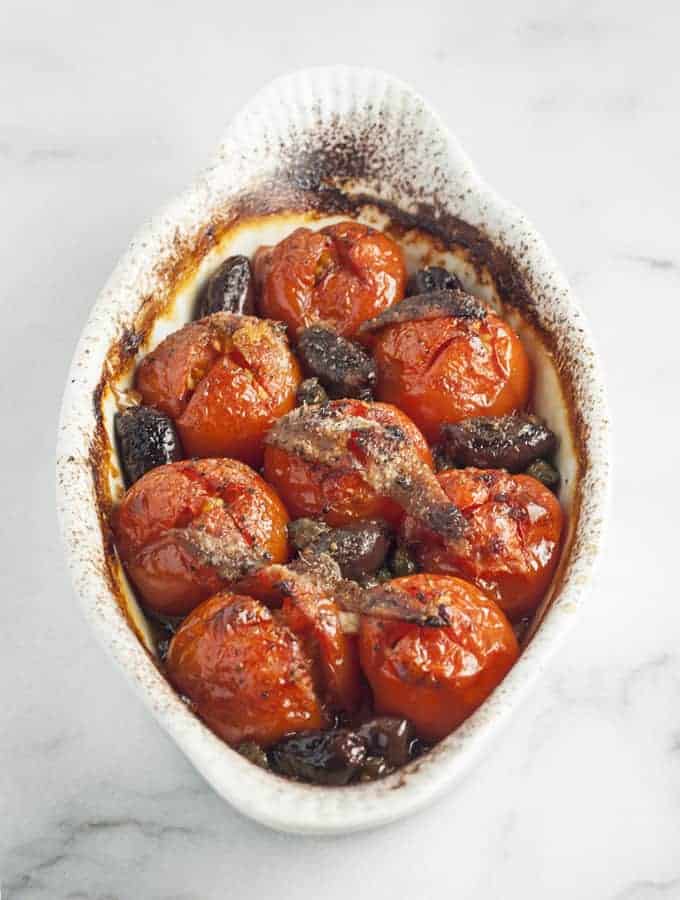 Roast a savory side dish of Bijouxs Basics Tomatoes Provencal and experience these versatile little kitchen gems, plus 10 little jewel ideas for your everyday kitchen.
Taking time often requires making time and a simple go-to Bijouxs Basics recipe such as Roasted Tomatoes Provencal helps me make time in the Bijouxs kitchen. Simple on-hand ingredients, minimum prep, not to mention a great way to use those over-ripe tomatoes lingering in the kitchen, make this a little jewel recipe. Start by packing tomatoes (leave whole if small, cut in half for larger varieties) snugly into a baking dish. I use individual gratin dishes, allowing for flexible quantities. Next, tuck in crushed garlic cloves, olives, capers, a pinch of dried thyme and a few anchovies draped over the top. Drizzle with olive oil, generously salt and pepper and roast to perfection.
Cook's Notes: Here are 10 little jewel ideas for using these lovely roasted tomato gems, just to get you started. Serve with your favorite al dente pasta; spoon over simple sautéed meats such as Italian Turkey Cutlets or fish, such as halibut or snapper; top sautéed eggplant slices and add a sprinkle of Parmesan cheese for a quick version of eggplant gratin; top tomatoes with a generous layer of crushed croutons during the last minutes of baking for a tomato casserole; fold roasted tomatoes into beaten eggs and bake to create a tomato frittata; place the roasted tomatoes in the blender to create a smooth flavorful tomato sauce; roast the tomatoes in a larger vessel and crack a few eggs alongside the tomatoes during the last minutes of baking; roasted tomatoes make a great pizza topping; spoon onto toasted bread slices for crostini; toss tomatoes with steamed rice along with herbs, such as parsley and basil for a light rice pilaf.
Roasted Tomatoes Provencal, versatile Bijouxs Basics little kitchen gems, making time for taking time. Please share your ideas for these savory little Bijouxs.
As always, enjoy. B