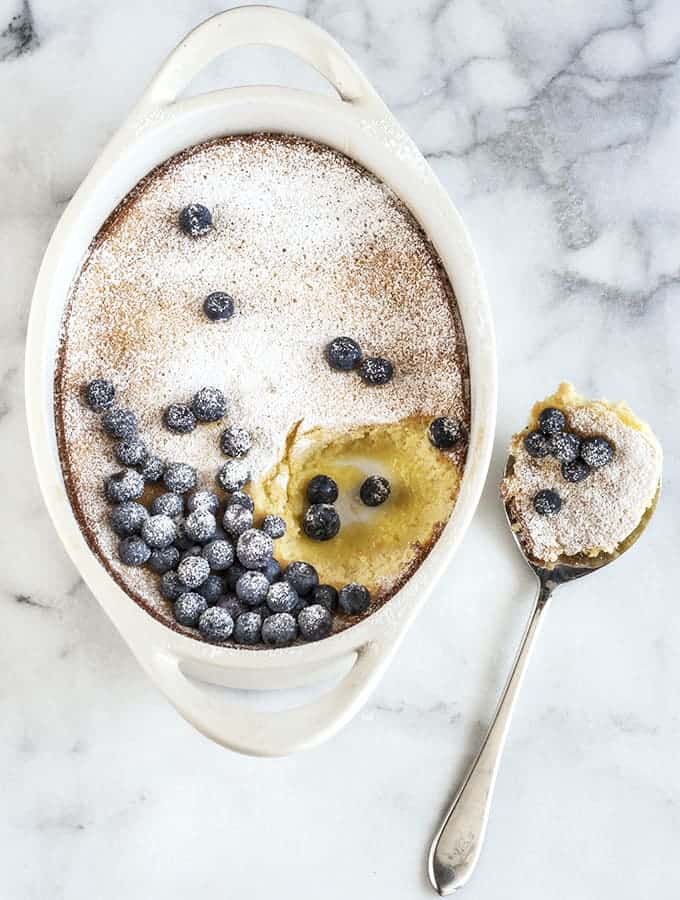 The comfort of food. A childhood gem gets a little polish at Bijouxs – Meyer Lemon Pudding with Blueberries – light and fluffy, an everyday little jewel for Spring.
Simple treats, served family style, still tug at our hearts. A childhood favorite is lemon sponge pudding, basic ingredients combine to create a lightly baked pudding that yields a soft crust with a creamy lemon filling.
A bounty of Meyer lemons, gifts from friends, led me to an early morning juicing spree in the studio and to create the pudding using this charming citrus that carries both the essence of a lemon and an orange. A topping of fresh blueberries, for a tart burst, and a light dusting of confectioner's sugar complete the dish.
COOK'S NOTES: Bake the pudding in a baking vessel with a 6-cup capacity. You may need to adjust the baking time depending on the size and depth of the baking dish you use – a deeper baking dish may require a bit longer baking time. Regular lemons of course may be used instead of Meyers.
To make a lemon sponge pie, pour the lemon filling in a 9-in pie shell, bake at 450 degrees for 8 minutes, then reduce the heat to 325-350 degrees and bake for 25 minutes, or until set.
Meyer Lemon Pudding with Blueberries, everyday comfort from Bijouxs Recipe Collection.
As always, enjoy. B