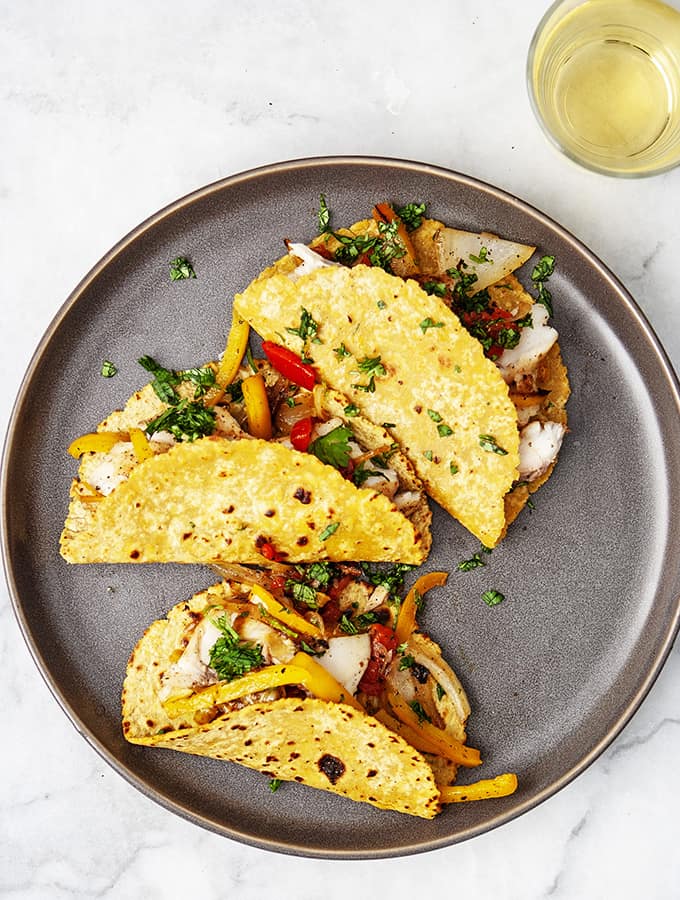 Tacos, I must admit they are pretty much a staple in my diet. My favorite are these simple fish tacos, made with fresh fish right off the coast of my home. A easy prep and delish any night of the week, for more than just Tuesdays. Enjoy this recipe preview from forthcoming cookbook The Beach House.
LA TACOS
I can't help but think of LA when I think of tacos. Growing up in LA tacos, were and still are, a big part of my dining menu. Starting with my Mom's greasy-spoon chile con carne tacos (just the best), Taco Bell growing up and moving on the street tacos from the myriad of choices with in LA, a love affair began. In a quest to eat a more healthy daily food choices, these simple one-pan California Rockfish Tacos are part of my staples. I also love the flexibility of tacos, as a menu concept, they are simple a loved by almost everyone. This recipe is real deal straight from my kitchen.
CALIFORNIA FISH TACOS
On any give day, especially when I go down to get fresh fish from the fishing boats at the markets these California Fish Tacos reign as the house favorite. What can be better than super fresh fish simply sautéed with peppers and onions, wrapped in a warm artisan tortilla-pure California. 
Since my migration from LA up to the Central Coast I have been enjoying the access to all the local treasures from our beautiful California coastline. Fresh Hope Ranch Mussels, which I shared here, which are some of the best that appear anywhere. Also California halibut and tuna- take your pick, we are blessed. For an any-night taco, I rely on California rockfish, firm and mild in taste, perfect for tacos.
CALIFORNIA ROCKFISH
California Rockfish, also known as rock cod or Pacific Snapper is a fairly common fish on the West Coast. Fished close to the shore, as my son went out  not too far off the coast on one of our local boats and came back with some nice fish. Use snapper or any firm white fish you prefer for the tacos. Salmon also makes for tasty tacos. In fact, just about anything you can wrap in a tortilla, such as roasted sweet potatoes, or any combo of veggies make great filling options.
I favor a simple method of preparation for California Fish Tacos, as these tacos are cooked at the beach or at home on the stove top. All that's required is a heavy skillet, such as an economical cast iron, which goes from beach campfire or stovetop no problem. Lodge Classic skillets are long time residents in my kitchen and found at most  hardware stores and even yard sales  Some sauté the fish separate, but in real life, I sauté the vegetables lightly first, then in the same pan with a little more oil place the fish, skin side down and cook until crisp before gently turning for short cook on other side. Finally, I add the onions and peppers back into the skillet and toss lightly, to help the fish flake to easily rest in the tortillas. I either grill the tortilla over a open flame, or toast lightly in the pan. You may only have room for 1 or 2 tortillas at a time, wrap in foil to keep warm and you cook all the tortillas.
Savor this little jewel recipe a preview from my next book The Beach House. 
As always, enjoy. B