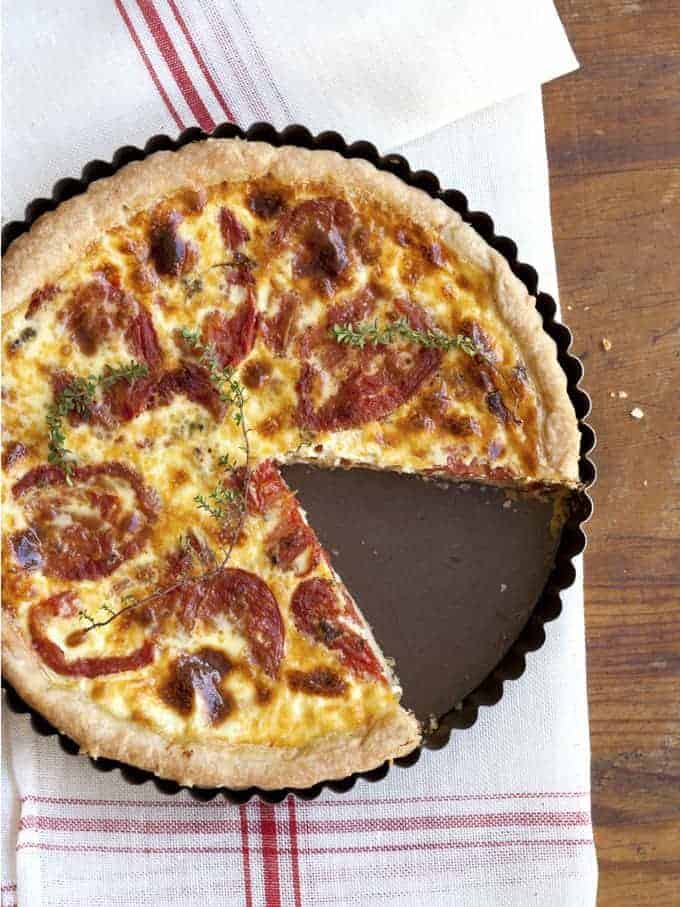 Quiche, the darling of the 70's has been making a comeback and it some ways, it never really left. This all-purpose savory tart is flexible, embracing whatever you have on hand in the kitchen, freezes well and likes to travel. Roasted Tomato Quiche features slow roasted tomatoes with garlic and thyme, a creamy custard and a crisp, buttery crust. Of course, there is a simple formula to creating a little jewel of a quiche.
Beginning cooking courses generally include instruction on quiches and soufflés, mine were no exception. A simple formula, from my first and most splendid cooking teachers, provides a basic quiche formula: One 9-inch pastry shell, partially baked; 1 cup liquid (milk, cream, tomato sauce); 1 cup filling (cheese, vegetables, etc.) and 2 lightly beaten eggs. Just design and bake your own little jewel quiche.
Roasted Tomato Quiche pairs herb and garlic slow roasted tomatoes (this brings out the flavor of almost any tomato) with a creamy custard, not unlike the flavor of a bowl of creamy tomato soup.
Quiches are a pretty forgiving tart and may be baked ahead and travel well for picnics and parties. Make quiches as individual servings, in mini baking cups or a large square pan to serve as small bites for a party.
For Mother's Day Brunch brunch perhaps a Roasted Tomato Quiche may make it to your celebration table for a simple, rustic meal rounded out with a salad of baby greens tossed with Bijouxs House Vinaigrette, a bowl of chilled honeyed fruit compote and glasses of sparkling Rosé.
At Bijouxs, modern classic recipes are the Little Jewels from the Kitchen.
As always, enjoy. B