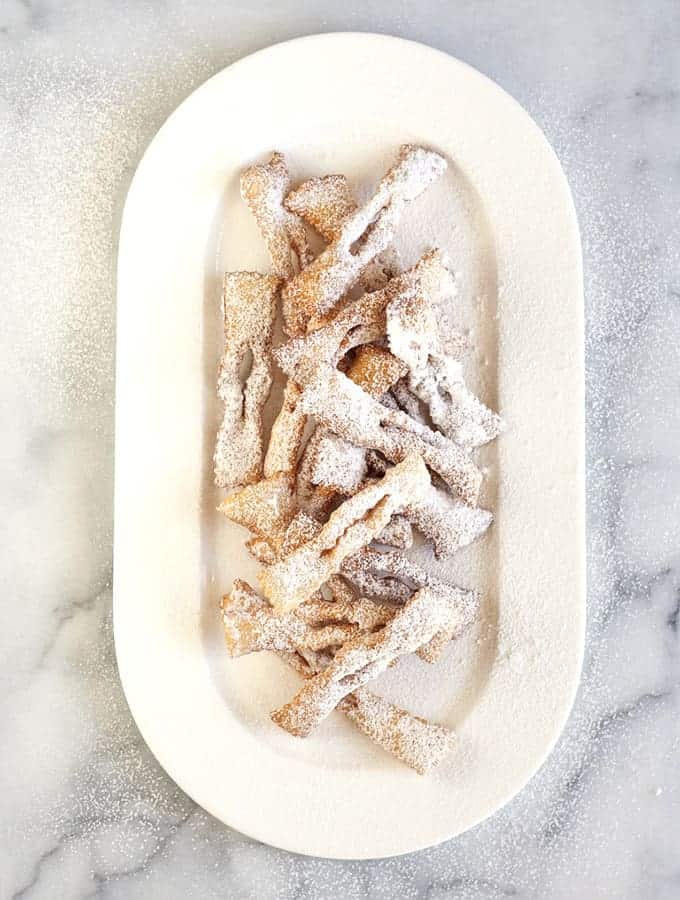 It was love at first bite. Sweet, crunchy, light cookies that showed up on a long-ago holiday table. Since then these cookies now grace my holiday table, a true little jewel. Italian Bow Cookies from my Family & Friends Cookbook.
BEST BOW COOKIES
As delicious as the cookies are they create a couple of holiday dilemmas for me. First, what to call these cookies? They go by a plethora of names from angel wings, crostoli, cenci (rags), bugia (derived from the Italian word, Bugia which translates to liar. They are called liar's cookies because when Mother made them and put them in the cookie jar she would know immediately if you had stolen one by the trail of powdered sugar that leads up to your mouth, very true!) and for me, I came to know them as roštule. They really are a very basic recipe, well known and loved in many countries. Sweet dough is rolled very thin, cut into ribbons, shaped and fried until crispy brown then sprinkled hot with powdered sugar. Bow Cookies are light, crispy and sweet with just a hint of anise, holiday heaven.
My second dilemma with Bow Cookies is that I can not control myself when they are around, they are that good. Thank goodness I only bake them once a year and have taken to giving most of them away, saving a precious few for my own consumption, which usually occurs in the first 24 hours after baking. Very few sweets get me they way these cookies do, that's what makes them a little jewel.
ITALIAN BOW COOKIES
My version of this cookie actually does not involve trying the cookie in a bow. The dough is cut into strips (nice to use a fluted pastry cutter) about 1 inch wide by 4 inches long. A slit is cut in the middle, about 1 inch, and the end is pulled through the slit in the middle, this forms the bow tie.
A hint of anise graces this version of the cookie and really makes a wonderful complement to the crunchy sweetness, much like my favorite little jewel recipe Anise Pound Cake.
Every bit of effort to make Bow Cookies cookies is well worth it. If you make one cookie this season, these cookies are sure to be savored, just follow the trail of powdered sugar.
P.S. from Bijouxs. I just made a move last month to my favorite little beach town and have been impacted by the great fire along the California coast. The past week has been very scary, but I am thankful to be safe, no loss but the fire came very close. My thoughts and prayers are with all in my community impacted by this tragic fire.
As always, enjoy. B