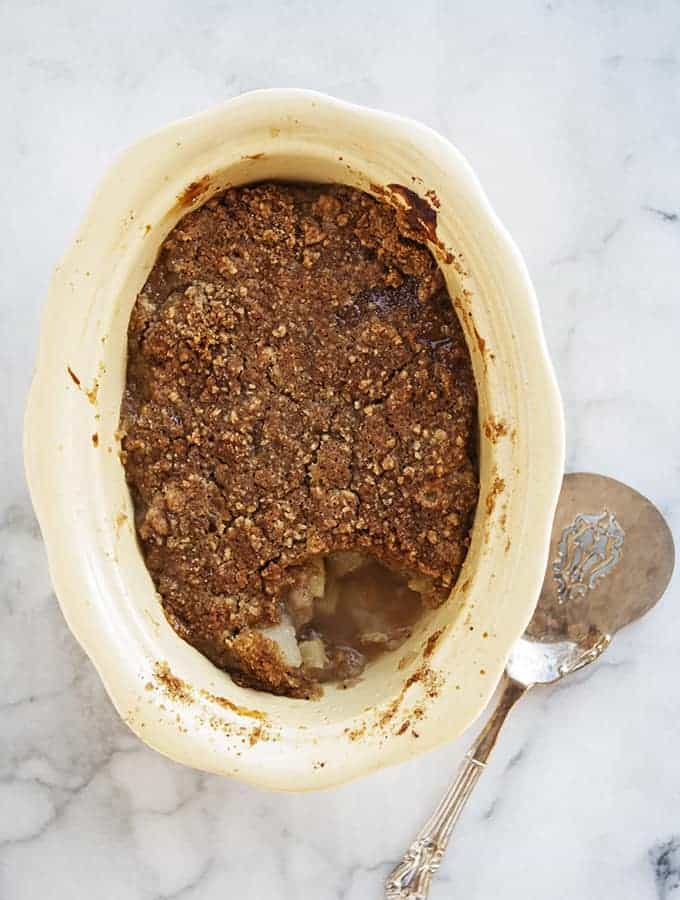 The dilemma: What do to with a flat of over-ripe pears. The solution: Ginger-Spice Pear Crisp – a little jewel that tastes like Fall and solves a dilemma.
Yes, necessity can be the mother of invention. Has this ever happened to you – you know, the zealous purchase of a full flat of beautiful fruit, only to find yourself busy for days, then left staring later at a glut of ripe fruit? Thank goodness for a simple gem such as a fruit crisp make to ripe/over-ripe pears sing.
Beginning with Bijouxs master crisp recipe, I expanded, adding a warming note from fresh ginger, plus spices from a sultry Winter Spice Blend from March Pantry. The blend contains all my favorite warming spices; such as cinnamon, allspice, anise seed, nutmeg with just a suspicion of black pepper – perfect. P.S. check out March Pantry – one of my favorite shops.
Topping the spiced pears with a buttery brown sugar crumble produces a not-too-sweet crust that I like to bake until it is a deep, mahogany brown. This subtly spiced pear crisp, is now part of my beloved little jewel collection. Gild the lily at will with vanilla ice cream or freshly whipped cream.
Ginger-Spice Pear Crisp – the newest little jewel from the collection.
P.S. I contacted March Pantry, and the Winter Spice Blend is no longer available. See Cook's Notes on the recipe card.
As always, enjoy. B