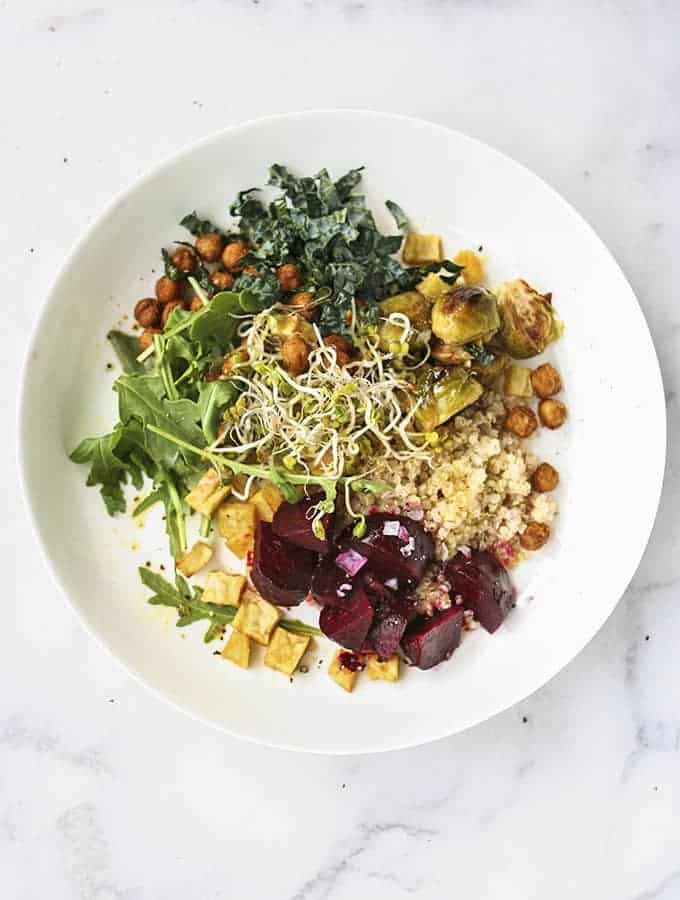 Yes, it's autumn, but salads can still make the meal. Roast a collection of favorite fall vegetables, add in some healthy greens and toss with a lemony dressing – a fall jewel from the Bijouxs kitchen,  Autumn Roasted Vegetable Salad.
Digging in for the fall season means a change of pace in seasonal produce. Saying good bye to summer's bounty does not mean saying goodbye to lovely, fresh salads, always a mainstay at Bijouxs. With cooler days ahead, you can fire up the oven to roast some tasty components for an Autumn Roasted Vegetable Salad.
This salad is filled with goodness and inspired by a little grace and economy, via Tamar Alder. I often make this salad at the the of the week, roasting up any mixture of odds and ends vegetables, adding a can of pantry staple chickpeas to fill things out. Next, I use any cooked leftover grains, such as quinoa, bulgur wheat or brown rice. Fresh greens such as kale, arugula and sprouts add the fresh components to the salad. A light, lemony miso dresses the salad.
Conversely, I also make this salad with just-bought finds from the farmers market. Roasting a collection of vegetable finds, cooking a large pot of quinoa and mixing a jar of lemon miso dressing – all prepped for the week to enjoy Autumn Roasted Vegetable Salad, plus sides for weeknight meals.
Roasting the vegetables all at the same time creates economy, saving time and energy, not to mention only a couple sheet pans to clean. Keep an eye on the vegetables – they will roast at different times dependent on the size of each vegetable and also your oven. I keep an eye out, removing each variety of vegetable after it is crispy brown and cooked through.
This recipe is expandable and flexible, use your favorite autumn vegetables roasted, plus your favorite fresh greens and grains. This salad makes a healthy work day lunch.
Autumn Roasted Vegetable Salad, digging in for Fall in the Bijouxs kitchen.
As always, enjoy. B