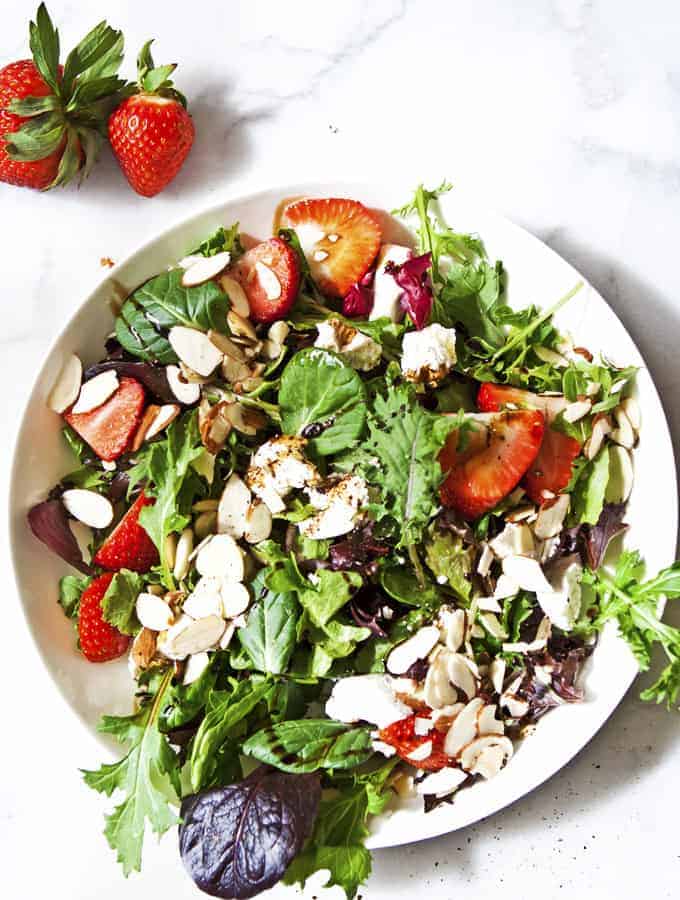 Food fads may come and go, but the Bijouxs remain – L'Opera Salad a simple classic from the recipe collection.
A happy, sunny break in our rainy California weather, time to enjoy this favorite bright and fresh salad, not to mention easy – just put the ingredients in a bowl, that's it.
This salad came to me while traveling one year, where my conversations always end up in food. In fact, I still have the small peiece of paper the "recipe" was written down on about 20 years ago. No measurements, just ingredients. I been happly making this simple salad for lunch or a light dinner – it goes together so easy.
As with any recipe this simple, the quality of the ingredients makes the dish. Start with the most flavorful assorted meslun greens, perhaps Kenter Canyon Farms, available at Whole Foods. Next, fresh strawberries (no problem here in LA), soft goat cheese, and sliced almonds.
The baslamic vinegar is really what makes the salad sing. I use a lovely 12-year aged balsamic vinegar, from Sur La Table, keeping it in reserve for special dishes. I know, it seems like a lot to invest, but the mild flavor of the aged is perfecto!
A nice fruity olive oil will also carry the salad to it's grand finish.
P.S. I like to set to the side a couple of extra strawberries to dip in any extra balsamic at the bottom of the bowl.
Enjoy moments of sun with a beautiful fresh little jewel recipe from Bijouxs.
As always, enjoy. B