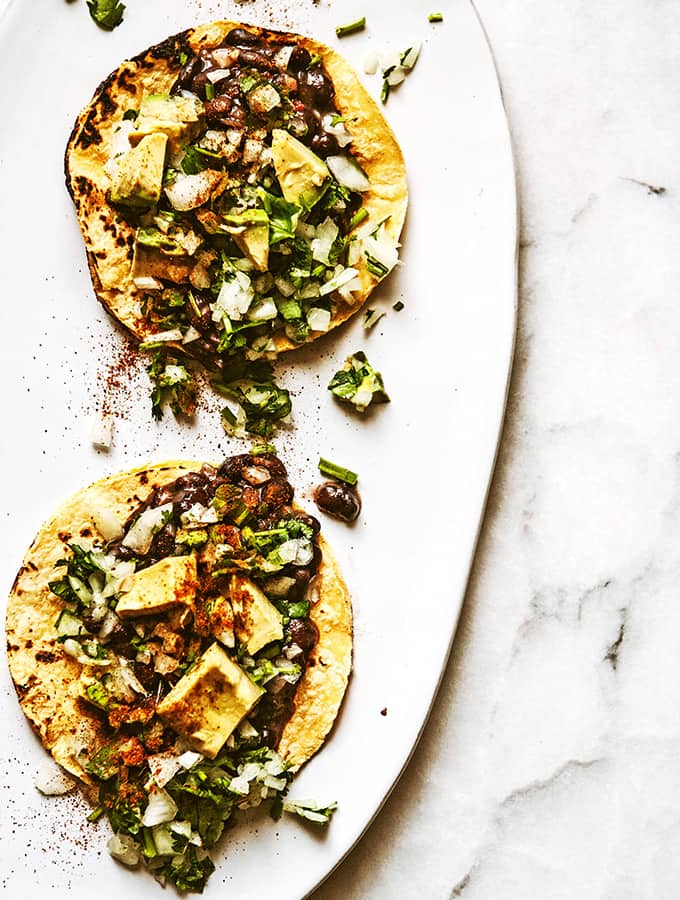 Craving healthy tacos? I have got you covered here is the recipe, craving fulfilled. Healthy Black Bean Tacos come together in a flash and are an economical weeknight meal. Eating healthy is always a little jewel.
TACOS
Who among us does NOT love tacos? Growing up in LA, tacos have been my diet staple as long as I can remember. Actually as far back as 4-years old when I wondered down the street to my neighbor's home. They invited me in for delicious home cooked Mexican food. I have never forgot the big pot of beans on the stove. I think I have had almost every variation of Mexican cuisine from elevated restaurant to local stalls along the street – all tacos are wonderful and all are unique
TACO RECIPES
I crave tacos so often I have shared many recipes on the blog, such as Squash Blossom Tacos, California Fish Tacos and Cajun Barbecue Shrimp Tacos. Now, here is another of my favorite recipes, Healthy Black Bean Tacos.
HEALTHY TACOS
These quick black beans come straight from canned beans, so easy. Adding in fresh onion, garlic, dried red pepper flakes creates a kick. The black beans create the rich and creamy filling for the tacos, supported with a classic cilantro-onion chop which adds a bright crunch plus more cilantro to round things out. What is missing is extra fat and cheese, which are not needed at all!
Please enjoy these Healthy Black Bean Tacos and thank you for supporting Bijouxs Little Jewels from the Kitchen
As always, enjoy. B