In the final glow of summer days, more beautiful simplicity in the kitchen from Bijouxs. Sometimes I just forget about this wonderful pair – the Italian couple, the sweet and salty duo – some thoughts about melon and prosciutto, no labor just love, a simple little jewel.
I admit, sometimes I forget what a simple and beautiful combination melon and prosciutto is – two stellar ingredients, that's all, available year round.
Melon is a fruit with a great quality besides taste; it's a staple found year round in the markets, and right now with your attention, you may notice some lovely heirloom and specialty melons varieties right in your supermarkets, most assured at local farmers markets.
To create this beautiful Italian inspired duo, any variety of melon will do.  To select a ripe melon, first use your nose, you should be able to smell the lovely sweet melon fragrance, and then a light press with your fingers on round section where the vine was attached, it should be slightly soft, chances are the melon is ripe.
French morning melon has become a Bijouxs favorite; their intoxicating sweet scent fills the kitchen from the moment they arrive.
Now to the salty part of this Italian duo – prosciutto. This famous ham from Italy is also a staple, with packaged renditions in markets, supermarkets, and local delis. Best advice: make friends with your local Italian deli and they will steer your to the sweetest, tender prosciutto, and chances are they will slice it properly, thin with sheets of wax paper between each slice, the best way to honor this fine ham. Bijouxs favors the classic Italians, Parma prosciutto or San Daniele, but from Iowa, La Quercia is a favorite of many top chefs. Although the price per pound reflects a luxury, a mere 1/4 pound will provide enough delicate paper-thin slices to serve 6 guests as a starter.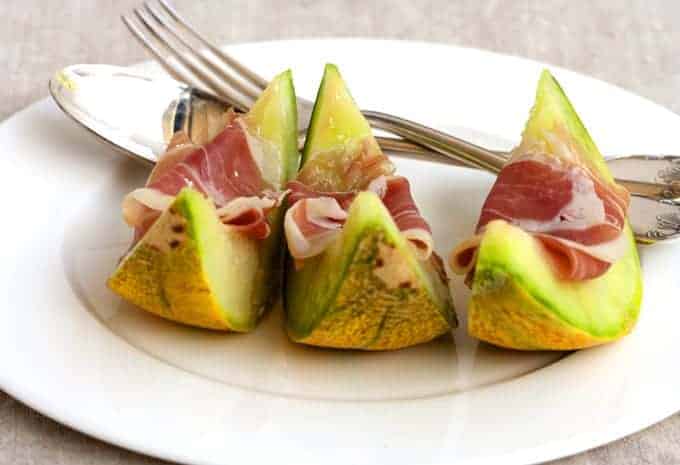 The labor involved consists of slicing and seeding the melon and draping or wrapping a slice of prosciutto about the melon. I favor serving wedges of melon draped with a slice of prosciutto, but any way you slice it, melon and prosciutto is a simple, everyday beauty right in our kitchens. Wishing you a very happy Labor Day.
As always, enjoy. B