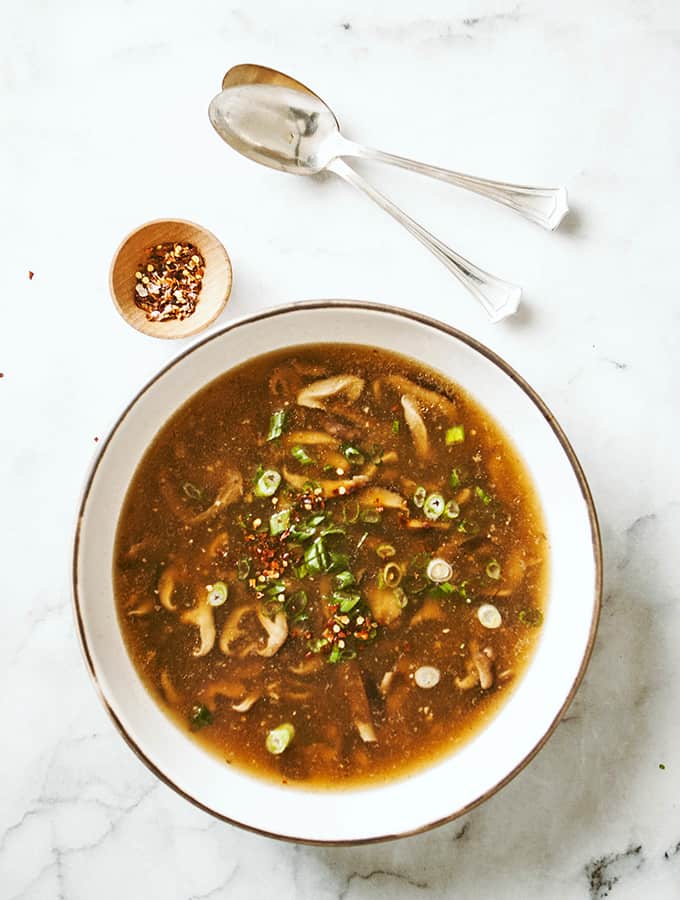 Soup not only makes the meal, it is the meal. Rich Mushroom Hot & Sour Soup is loaded with meaty mushrooms simmered in a flavorful broth-another Little Jewel from the Bijouxs Kitchen.
MUSHROOM RECIPES
Simple soups are the greatest to have on hand for weeknight suppers, when time is short. Soups easily store in the freezer, ready to heat up at a moments notice when hunger strikes. Mushrooms are a favorite in the Bijouxs Kitchen, I have many recipes on the website featuring mushrooms, such as my forever popular Wild Mushroom Tart, Wild Spinach & Roasted Mushrooms, Creamy Mushroom Soup and another version of Hot & Sour Soup.
HOT & SOUR SOUP
You may have sampled Hot & Sour Soup while dining at your favorite Asian restaurant. A family owned Thai restaurant near my home served this soup and became a beloved favorite. This recipe was inspired by the owner/chef's eclectic menu. I am always tinkering with recipes and this Rich Mushroom Hot & Sour Soup gains the depth of flavors from dried mixed mushrooms and makes use of their rich, brown broth. 
The soup comes together rather quickly, but do allow the soaking time for the dried mushrooms. Basically everything but the mushrooms are pantry items you may have on hand. I love recipes with a simple list of ingredients that I can pick up on the way home from work. Think about adding some frozen dumplings or dried ramen if you would like a more substantial soup meal.
Soup really does makes the meal. Rich Mushroom Hot & Sour Soup from Bijouxs Little Jewels from the Kitchen.
As always, enjoy. B