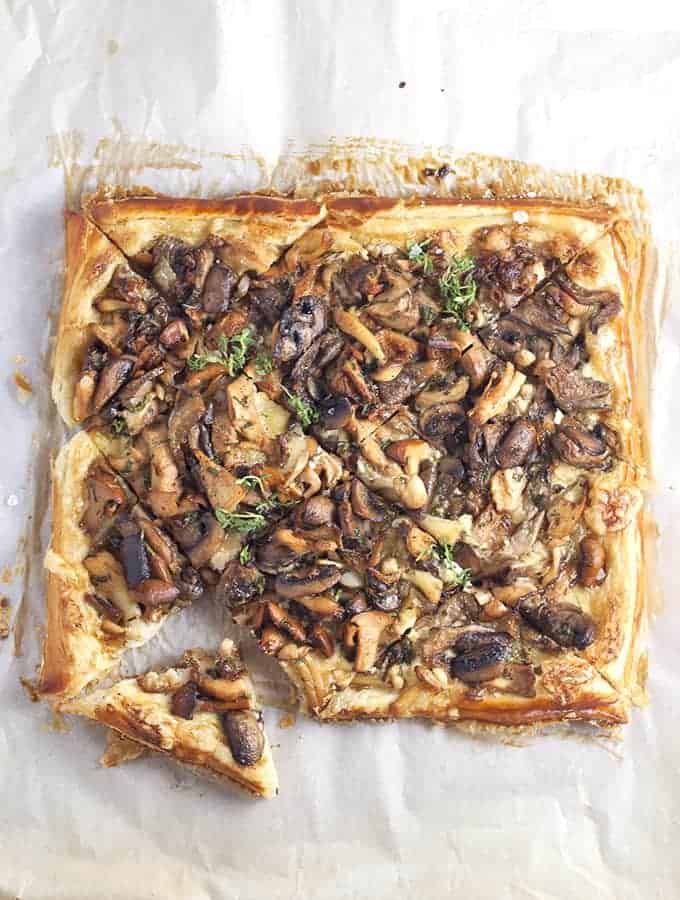 Bijouxs is wild about mushrooms, their earthy, woodsy flavors are a perfect foil for fall's richer fare. A rustic mushroom tart is one of my favorite ways to showcase these little jewels – more easy entertaining from Bijouxs.
Wild mushrooms were one of the first produce items to catch my eye at the PMA Fresh Summit, my Little Jewel No. 2. Ponderosa Mushrooms' display was filled with baskets of unique mushrooms varieties, names such as White Shimeji, Chicken of the Woods, Hedgehog and of course the always beautiful Yellow Chanterelles.
If you have not sampled different varieties of wild mushrooms fall is a wonderful time, many markets are now carrying some of the unique and flavorful varieties. In preparing this tart, I like to sauté the different varieties separately, which ensures even cooking and also allows me to sample each variety before they are tossed together to top the tart.
I think a nice way to enjoy these delicate little jewels is simply sautéed in a little butter and olive oil with a few fresh herbs, but taking that one step further by placing the mushrooms on a creamy, cheesy puff pastry crust creates a beautiful rustic tart that serves as a small bite appetizer or a lovely lunch or light supper.
This tart is easy entertaining – just a few steps to prepare the mushrooms and the puff pastry, then assemble right before baking and in about 30 minutes a lovely, crisp tart emerges from the oven. For a light lunch or supper serve with a salad of frisee with a mustard vinaigrette, and finish with spiced poached fruit.
As always, enjoy. B