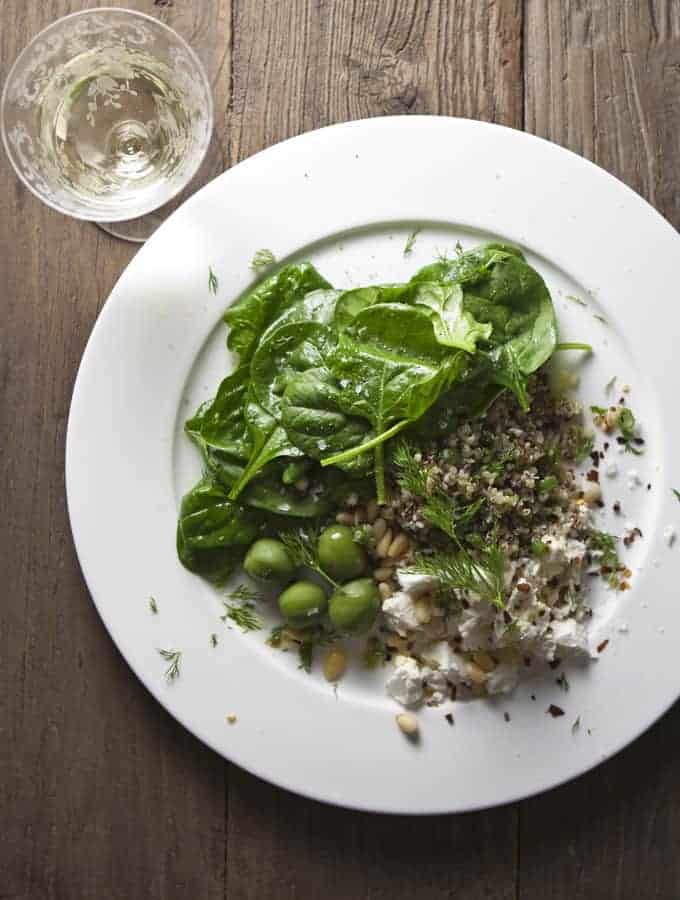 Keep composed. Summer in winter – Spinach, Quinoa & Feta Salad is about dreaming of summer days, an easy Perfect Pairing for the winter blues. Everyday beauty from the Bijouxs Little Jewels Kitchen.
It was just a year ago that I pulled up stakes and made the trek to the beautiful desert Southwest. Also involved in that move, was a career change; a new composition, if you will, combining my training and talents to become happily immersed in both Homes + Food, which to me = Perfect Pairing.
As an agent in real estate, busy days abound and like all of us, our meals can get lost in the shuffle so…keeping composed can be a challenge. One faithful meal I go to is a version of the classic salade composée, or composed salad.
There is nothing fancy about a composed salad, simply the ingredients are not mixed together, but laid side by side, think the classic salade niçoise, with tuna, egg, potatoes and green beans. Pretty-on-the-plate salads that result in bursts of individual flavors with each bite, and the option to mix tastes together as you wish.
Most often salads I compose are with on-hand ingredients, leading to unique combinations, or simply a deconstruction a favorite salad. Spinach, Quinoa & Feta Salad is composition of sunny Mediterranean inspired flavors, with on hand items such as fresh spinach, cooked quinoa (or rice), feta cheese, olives, lemons and a few fresh herbs. Sunny enough brighten even the chilliest of of winter days.
By all means, substitute – fresh greens of your choice for the spinach, or leftover cooked pasta for the quinoa, perhaps goat cheese for the feta? Lemons are a great staple in the kitchen, keeping the flavors bright. Maybe some red peppers instead of olives? Or a few grilled shrimp? I go into the fridge and pantry, and usually find enough to create a salade composée, a pretty plate of great flavors – dinner and staying composed.
As always, enjoy. B