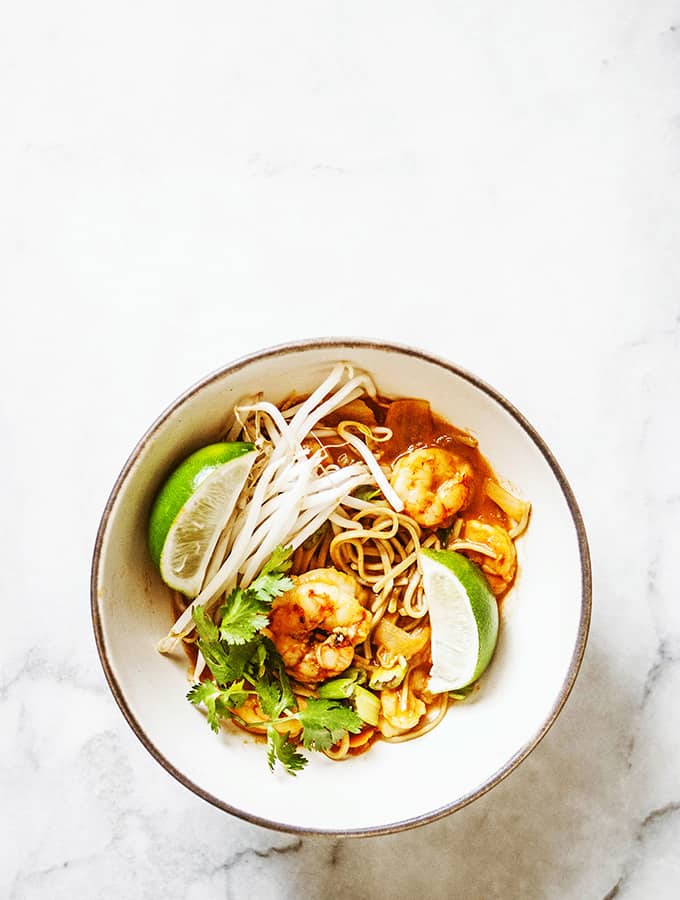 Matcha noodles plus double the curry, doubles the flavor, another Little Jewel from the Bijouxs Kitchen–Matcha Noodle Curry w/ Shrimp.
CURRY LOVE
Noodles = comfort. Spicing them up with classic Japanese curry mix and Thai red curry paste is a little flavor jewel. As all of you in the Bijouxs tribe recongize, I adore curry. I have Far Out Temple Curry a healthy update, my sister's Curry Nut Mix, Curry Bone Broth with Mushroom & Greens, Pan Seared Scallops with Coconut Curry plus more just search 'curry' to see them all. Today I am adding a new recipe that is a simple joy, Matcha Noodle Curry w/ Shrimp
MATCHA NOODLE CURRY WITH SHRIMP
Delicate Japanese soba noodles infused with green matcha create the base of this recipe. Don't worry if you can't find matcha soba noodles, plain noodles will work well. The simple curry sauce is the combination of using classic Japanese Curry spice block, (you may have seen in the supers) along with a fragrant Red Thai Curry paste which adds depth to the sauce. This is an almost ready-made curry, the sauce goes together simply, using water and a bit of broth, that's it.
Onions and carrots, along with fresh shrimp are sautéed and from there the curry sauce takes shape. Once the sauce comes together the cooked noodles are gently tossed in. Serving the noodles in bowls makes slurping them up much easier. Toppings of green onions and cilantro leaves, along with the crunch of mung bean sprouts add freshness to the noodles.
Of course please substitute chicken or tofu as you wish in place of the shrimp. Enjoy a bowl of Matcha Noodle Curry w/ Shrimp.