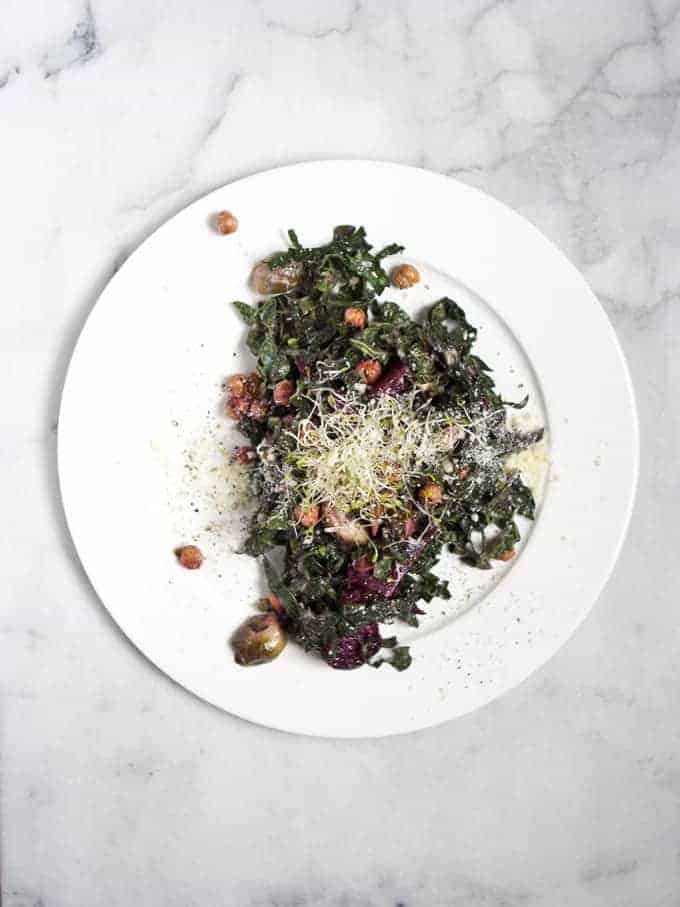 Hail Caesar. The classic salad gets a wintery makeover, made hale and healthy, a Perfect Pairing for the season.
A really good Caesar, made fresh table side, is a thing of joy to behold. There are fewer establishments that still create the classic and on that I never pass. But for ease of everyday enjoyment, I make a large jar of Caesar dressing and then put it to work during the week.
Aside from enjoying a classic Caesar, I make a healthy, hearty winter version, using finely shredded kale, yes, one of Google's most searched 2016 New Year's Resolutions, along with roasted vegetables from my favorite Autumn Roasted Vegetable Salad, such as roasted beets, brussels sprouts and chickpeas, with crisp sprouts and a sprinkle of extra Parmesan.
Sturdy kale, along with the roasted vegetables stand up to the rich-garlicky dressing to create a satisfying salad meal. Along with the health benefits of the vegetable melange, I feel good about the grace & economy of creating salads at home. A typical $12.00+ price tag for a healthy kale Caesar while dining out is reduced to a mere fraction of the cost when dining at home, a most delicious economy.
Never to waste, remaining Caesar dressing makes a great dip for fresh veggies, a rich sandwich spread, or just enjoy the classic salad.
Hail to Caesar in Winter – a little jewel for the new season.
As always, enjoy. B