Sugar & Spice Plum Tart, the newest little jewel from the Bijouxs Kitchen. Fresh plums simply baked in a buttery, spiced crumble of a soft crust with a sugar crusted top. 
BIJOUXS LIVE ON THE AIR
Recently I had the pleasure of doing a radio interview with the lovely ladies of "Girls on the Air", a live community radio show every Saturday about what goes on in our lives as women. They discuss all kinds of topics in a conversational style as colleagues in Real Estate who love Ventura County – the people, the locale, the history and the sense of closeness in our communities. Thank you for welcoming me to Ventura and giving me the opprotunity of sharing my cookbook and and my Sugar & Spice Plum Tart, new on the blog.
*Fast forward to 30 minutes in the show for my interview with my shout out to this Sugar & Spice Plum Tart -> link to listen.

PLUM CRAZY
Summer is plum season and I go plum crazy. This new little jewel, Sugar & Spice Plum Tart, joins the collection which includes a Plum Tart and Fig & Plum Flaugnarde.  All summer recipes are simple treats for the season and fresh plums are little jewels, ice cold out of refrigerator, or baked in a sweet treat.
SUGAR & SPICE PLUM TART
This Sugar & Spice Plum Tart, is really hybrid between a tart and a crumble (a "trumble", no, not a "cart"), with a soft, buttery heavenly spiced crust that also doubles as the topping. A crunchy sugar topping finishes out the tart.
The simple beauty of the recipe is that there is NO rolling dough, NO picture perfect crust required. The crust and topping meld together to create the spiced, buttery cushion which houses the fresh plums. The filling is super easy too – sliced plums, sugar, Grand Marnier liquer and a touch of cornstarch to bind the filling together when baked.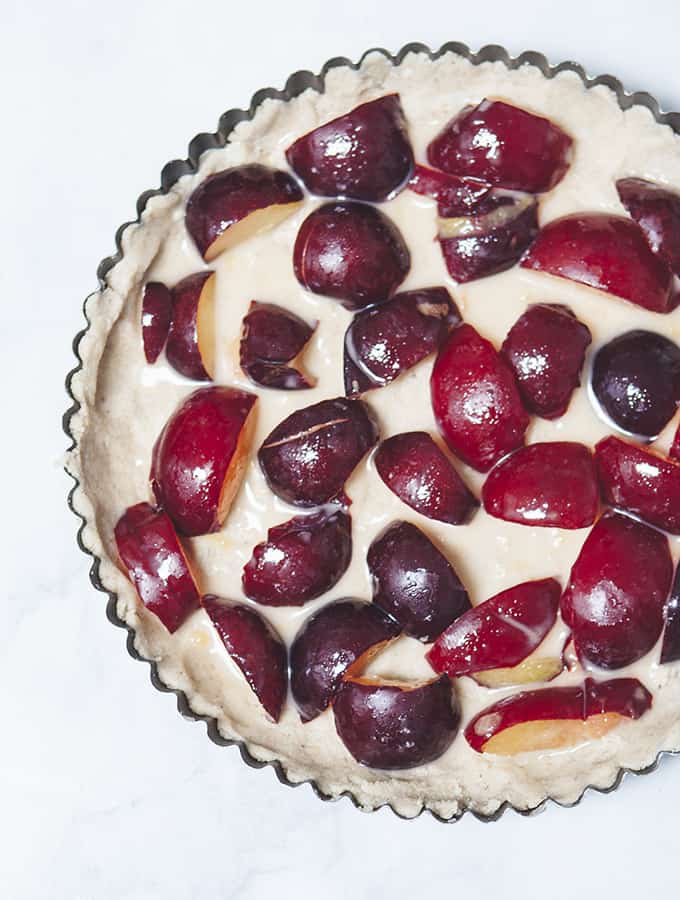 I happend on the perfect ice cream to push the spiced profile over the top at a local Indian Market. (I also snagged some fresh curry leaves) Find versions of Saffron Pistachio Ice Cream (Kesar Pista Indian Ice Cream) in many Indian and Persian specialty markets. It is a great reason to get out and explore your city, food adventures await.
SaveSave
SaveSave
SaveSave
SaveSave
SaveSave
SaveSave
SaveSave
SaveSave
SaveSave
SaveSave
SaveSave
As always, enjoy. B