Gifted. I am lucky in my new hometown to live near so many agricultural farms. I am also lucky to have a friend who knows the farmers. I received a bunch of fresh water spinach and set out for a simple Little Jewel– Water Spinach with Sweet Soy Glaze.
ASIAN GREENS
If you have not cooked with Asian greens yet, check them out. Many are a rich vibrant green in color, chock full of vitamins and minerals. Most are mild in taste. I have recipes on my blog using Bok Choy and Wild Spinach. When I was in LA I lived near a Ranch 99 Market, which stocks ingredients for Asian cuisine, there I picked up many fresh greens, pea sprouts and long beans were among my favorites.
FARMERS MARKETS
Now in the Central coast near the agriculture farms, the farmers markets are the places I can snap up the local produce. One of the tenants of the Bijouxs blog has long been about the "everyday beauty all around us, right here in our kitchen." Local fresh produce remain the stars.
WATER SPINACH
Water spinach is popular in Chinese and Asian cuisines. I love the name kōng xīn cài which in Chinese means 'empty hearted'. This may be due to the plant's hollow empty stems. Water spinach is mild and the leaves soften much like standard spinach. I have included the stems in the recipe, they add crunch to the dish. I served the Water Spinach with a sweet soy glaze to top a creamy cauliflower mash. Rice or another mild creamy base works well with the spinach.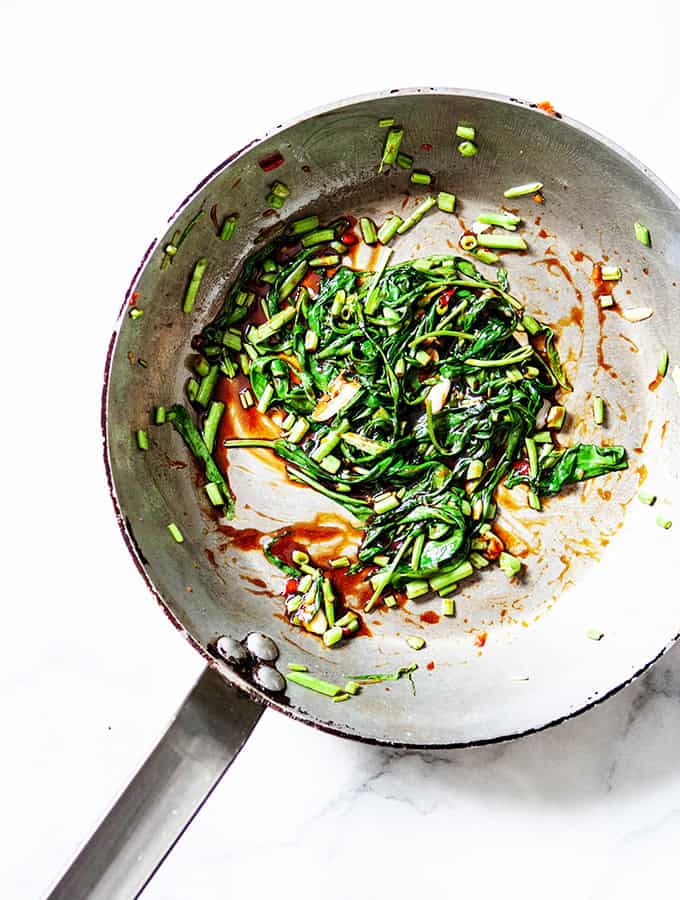 BIJOUXS EVERYDAY BEAUTY
My intent for my blog has always been to provide recipes for the home cook, featuring a variety of cuisines yet easy to prepare. No special skills are require at Bijouxs. I welcome you to sample my 457 recipes I have shared over the past ten years. Thank you for being a part of Bijouxs.
As always, enjoy. B