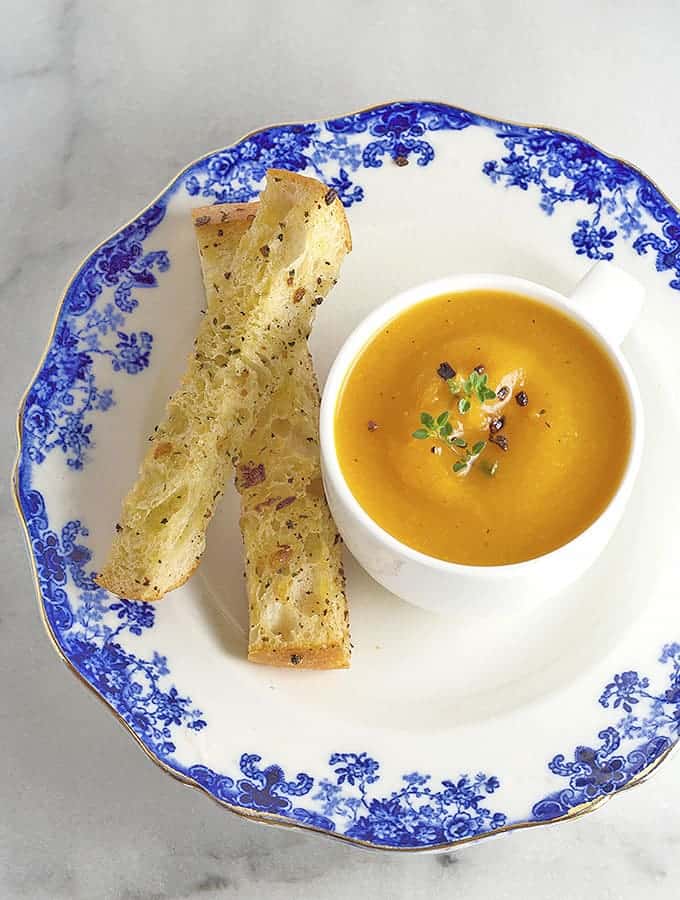 A soup that reflects the crisp, clear, bright days of the Fall season – Butternut Squash & Apple Soup – a breeze to make, a healthy bowl for lunches or light suppers, a bright little gem from the kitchen.
Soups are one of the first recipes to usher in Fall cooking in the Bijouxs kitchen. The weather is shifting, it is once again safe to turn on the oven and Butternut Squash & Apple soup is a perfect example of simple clay pot cooking – a healthy, light and easy baking method to produce everything from soups to desserts.
Clay pots were once fads of the home kitchen, my original Romertopf clay pot is still in use, revealing its nicks of time and unlike most fads, has turned out to be a very useful piece of kitchen jewelry.
There are many types of clay pots used in cooking all over the world, tagines from North Africa, cazuelas from Spain and of course American Boston bean pots, but the unglazed red clay pot is one of the most common. These porous, lidded pots are first pre-soaked in water, placed in a cold oven to begin where the moisture absorbed is released during the baking process, keeping the foods inside moist and eliminating the need for additional fat, yielding lighter cuisine and an easy method for soups and long-braised recipes.
A three or four-quart clay pot can produce a wide variety of recipes. Clay roasted chicken, curries, and classic Boston baked beans are some of Bijouxs favorites for clay pot cooking. The Best of Clay Pot Cooking is one book that gets you started with cooking in clay. This soup, slightly adapted from the book, may also be baked in a heavy, lidded Dutch oven or on the stove top, cooked over a low heat, adjusting time and flame/temperature as needed for both alternative methods.
I serve Butternut Squash & Apple Soup with large baton-shaped croutons, perfect for dipping, using my basic crouton method, but substituting shallots and thyme as the  seasonings. This soup freezes well and is great to have waiting for a quick Fall lunch or colorful first course.
Celebrate Fall with a little golden jewel from Bijouxs.
As always, enjoy. B