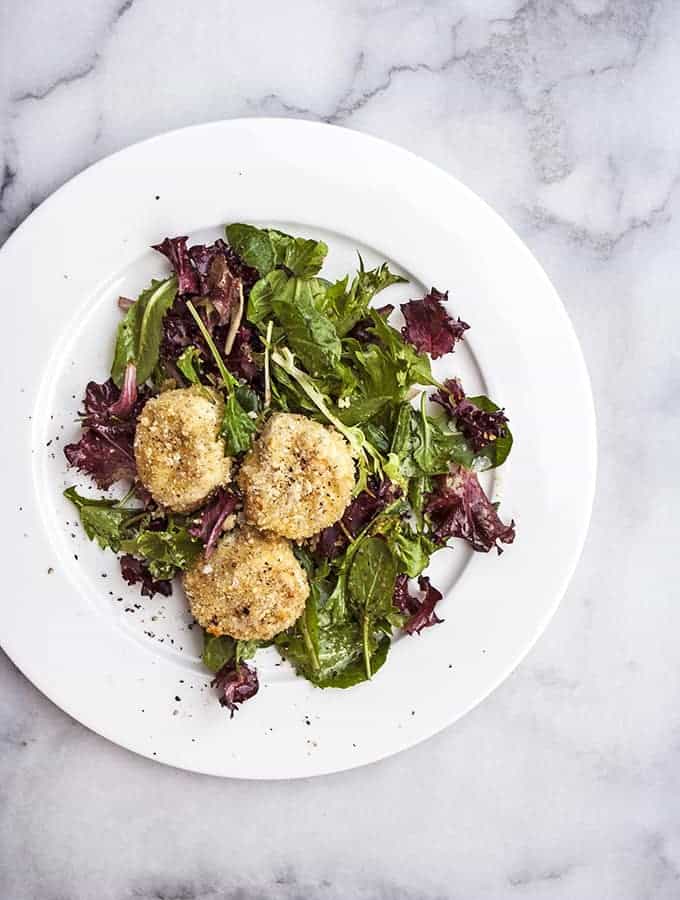 So, you are on your own at home tonight for dinner and you have to stop at the market. Idea: how about a classic California cuisine inspired salad with warm, creamy baked goat cheese, fresh herbs and greens, tossed in a true French vinaigrette? Yes, a single little jewel of a salad is on the menu, please join me.
Probably more than any other chef, I have been influenced by the beautiful cooking and recipes of Chez Panisse from the legendary chef Alice Waters. Her fresh approach to cooking and food sourcing has provided years of cooking inspiration. This salad was inspired by a classic that has been on the menu at Chez Panisse Cafe everyday since it opened.
Working as a personal chef for many years, I became adept at creating recipes that serve 1-2. Many of my clients were busy professionals, just wishing to come home to a simple, fresh dinner. This Bijouxs take on classic California cuisine was a client favorite and remains a personal favorite to enjoy when dining at a table for one.
At first glance, it may appear to be a longish list of ingredients, but this salad goes together quickly, and once you have made it you will reach for it over and over for a fresh, yet warming salad supper. The ingredients are available most supermarkets; a small log of fresh goat cheese, sourdough bread, fresh herbs and a mix of market greens, plus the other ingredients, many of which are pantry staples.
A few notes about making this salad taste spot on. Do make your own fresh bread crumbs, dried bread crumbs just do not possess the delicate, light texture. By all means, make your own fresh, French vinaigrette–cleverly prepared in the same bowl in which you will toss the salad. Also, opt for a mix of small-leafed market greens–I chose a mix of Italian lettuces, but any mix you enjoy will work.
To round out this California cuisine meal before you leave the market, perhaps select some fresh olives and nuts to munch on as you prepare the salad and for dessert, grab a pint of raspberry sorbet–it's great to be able to enjoy a table for one!
As always, enjoy. B